Disclosure: I may receive referral fees from purchases made through links on BicycleVolt. As an Amazon Associate, I earn from qualifying purchases. But I always stand by my opinions and recommendations.
If you're trying to track down the best bicycle rack for your car, then I feel the pain and uncertainty that you're probably experiencing.
Look online and there are literally hundreds of models to choose from. They're all (apparently) amazing, but they all have different features, work on some cars (but not others), and come at a range of different prices (from a few dollars to a lot of dollars). So, you don't want to make what can be a costly mistake. Some even need other add-ons for your car, such as roof bars or a hitch receiver.
How do you pick the best one for your car?
It's a tricky question, that I get asked regularly, and often comes with a whole host of other questions. So, what I thought I'd do is write up my advice about racks. I'll answer some of the most common questions people have in a moment. Plus, I'll give you a rundown of the best car cycle carriers available, with reviews for each based on feedback from real users.
Let's go take a look.
Bike Rack Recommendations:
---
How do I choose a bike rack?
When you're choosing a bike rack you need to look at:
(1) Where you want to put the rack on your vehicle
(2) How many bikes you have to carry
(3) What features you need (e.g. a lock)
(4) What your budget is
I'll talk about all these in a moment.
---
What is the easiest bike rack to use?
By far the easiest bike rack to use is the Saris Bones trunk mount. Place it against your trunk lid. Hook the straps on. Tighten…and it's ready to fit the bikes on. More details on this rack below.
If you have a hitch receiver, then go with one from the Allen Sports range below. These are even simpler than the Saris Bones as you just slot the rack fixing into the hitch receiver on your vehicle and secure it. No straps to use with this type of bike carrier so it's really, really easy to use.
---
Do bike racks damage your car?
In general, most good quality bike racks won't damage cars so long as they're installed correctly. However, there are a couple of problem areas that you need to be aware of and have a ready solution for.
Hook protectors
With trunk-mounted bike racks, the metal hooks at the end of the securing straps can sometimes cause some minor damage to the paintwork on your car. With a good rack these hooks will be powder-coated anyway, but I always add some of these hook protectors over the top of them as well.
These bike rack protection pads are a great way to protect the paint from trunk bike rack, making sure your carrier is a No Scratch Bike Rack.
They come in a pack of 4 pads and wrap over the metal of the bike rack. They then help to stop the metal from scratching your car body. You won't forget them either because, once you've fitted them the first time, they just stay in place thereafter.
Foam pipe wrap
You may find that the bike closest to the car can sometimes knock against the bodywork when fitting or removing the bikes. It's also possible that the bikes can knock against each – again, this tends to happen most when putting the bikes on the rack or taking them off.
You can buy products to protect the bike frame from these knocks, like these. However, they tend to be quite expensive.
Here's a secret though – pipe foam wrap. Does the same job as the more expensive protectors, but for a fraction of the cost.
Over time, you'll keep losing these protectors and need to replace them. With the expensive wraps you'll feel physical pain every single time this happens. With the pipe foam wrap? No problem. Just cut off a new length and wrap them around your bike.
Plus, the foam pipe wrap will keep your bike frame warm and cozy on chilly winter days. Your bike will appreciate this.
---
Can you put a bike rack on any car?
Obviously, carriers work better with some cars than others. For example, I'd personally have second thoughts about racking my beach cruiser up on my Lambo….but other folks don't seem to have the same concerns as me…
A useful resource to check which racks are suitable for your car is the Allen Sports Rack Finder tool. You can find it here. Put in your car details and it will give you a list of the company's racks that will work.
---
Can you open your trunk with a bike rack on it?
It all depends on the bike rack type you have and the type of trunk lid.
Trunk-mounted rack and top-hinged trunk lid
With this style of rack, you should be able to open the lid, so long as you don't have bikes fitted to the rack. Make sure you have all the rack straps tightened first and stop if you feel that the rack is sliding.
But, it's better to be safe than sorry. Trunk racks are quick to fit, so why not just take it off, open the trunk to get what you need, then close it and re-fit the rack.
Trunk-mounted rack and side-hinged trunk lid
Again, so long as the rack is free of bikes, you should be able to open the trunk lid fine. There's less danger of the rack sliding than there is with the top-opening hinges, but be careful and stop if you're unsure.
Hitch-mounted rack
Some hitch-mounted racks have a great feature that allows them to be pivoted down and away from the trunk lid. The racks from Allen Sports below will all do this.
Follow the manufacturer's instructions and you should be able to open the trunk with the rack AND bikes installed. That's a massive time-saver, particularly if you have a family like mine who are constantly needing to take things out and put extra stuff in…
---
Which bike racks are best?
If you have a hitch receiver and lots of bikes to carry, then I'd recommend one the Allen Sports hitch-mounted racks. They're great value, very versatile, and get some stunning feedback from purchasers.
If you don't have a hitch, then you might choose to get one and grab a hitch rack. If you don't want to get a hitch, then a trunk-mounted rack is a fantastic option.
Turning the question around, there's a couple of things I definitely don't recommend:
Bike roof racks

Putting bikes inside the car
Bike roof racks
You'll see lots of cars with bikes racked up on the roof. What you won't necessarily see is the sweat, blood, and tears that are caused by trying to wrestle bikes up that high onto a roof rack.
It's not an easy task to lift a 30+ pound bike over your head and strap it to a rack, without dropping it on your car or on your head. Plus there's the shocking negative effect on your car's aerodynamics when you double its height like this. Not good.
Putting bikes inside the car
Yeah, we've all done it. Much like a naughty smoke when we were teenagers, it felt like a good idea at the time but there were longer-term consequences.
With smoking, it's lung cancer and a hacking cough. With bikes in cars, the outcomes can be somewhat less severe, but can still involve damaged cars, bikes, and leaving important bits of your bikes back home (like the wheels).
Don't be a cheapskate. Spend the money on a quality solution.
---
Recommended hitch bike carriers for your car
Got a hitch receiver on your vehicle? Then, one of these is an awesome option for you.
This rack, from long-established manufacturer Allen Sports, is fantastic. It comes with very high ratings from users and it's not difficult to see why that's the case.
The company has been producing bicycle carriers for nearly half a century. So they know how to make a good one.
They've got a solution for bikes whether you've got 2, 3, 4, or 5 of them and you can see the best one for your needs on Amazon here:
2-bike hitch rack
3-bike hitch rack
4-bike hitch rack
5-bike hitch rack
When you take a look at the Amazon page, you'll notice different variations of each rack. I'd suggest that you choose the Deluxe Locking model. The reason for this is that it gives a useful extra safety feature. It comes with two keys and an integrated lock that secures it onto your car's hitch receiver. Two keys? Well, if you're anything like me, you'll keep losing one. Lock? It stops any opportunistic thieves in their tracks.
These bike carriers are made for bicycles that weigh up to 35 pounds each – so the 5-bicycle carrier can take up to 175 pounds of bikes.
Now, one question that many people ask is how to fit bikes on racks when they don't have a standard crossbar (the straight horizontal type). There are many bikes that fall into this category, including kids' bikes, ladies' bikes, full-sus MTBs, BMXs, low-step and step-through bicycles.
Thankfully, the solution is a simple and straightforward one. Grab yourself a piece of kit known as a 'Crossbar adaptor'. This fits on to the bikes, mimicking the straight bar and allows the bikes to be hooked on to the bike carrier as normal.
It's one of those inventions that makes you say, "Why didn't I think of that…?".
Allen Sports make an excellent crossbar adaptor that gets great reviews.
I especially love hitch-mount carriers for a couple of reasons: (1) the central pillar pivots and (2) the racks are a low height off the floor.
The benefit of a pivoting central pillar is that you can load the bikes onto the rack, then if you need to get access to the trunk you can just swing the rack and bikes down away from the car. Moving them a sufficient distance in order to open the trunk. All this without having to unstrap the bikes.
The low height from the floor is something you'll appreciate if you've ever had the misfortune of using a roof bike rack. It's a lot easier and safer to lift bikes up onto a hitch rack than above your head and onto a roof rack. Safer for your car, your bikes, and your head.
All Allen Sports racks are backed-up with a lifetime warranty, because the company knows that their products are so good. Find the details here:
---
Recommended trunk racks for your car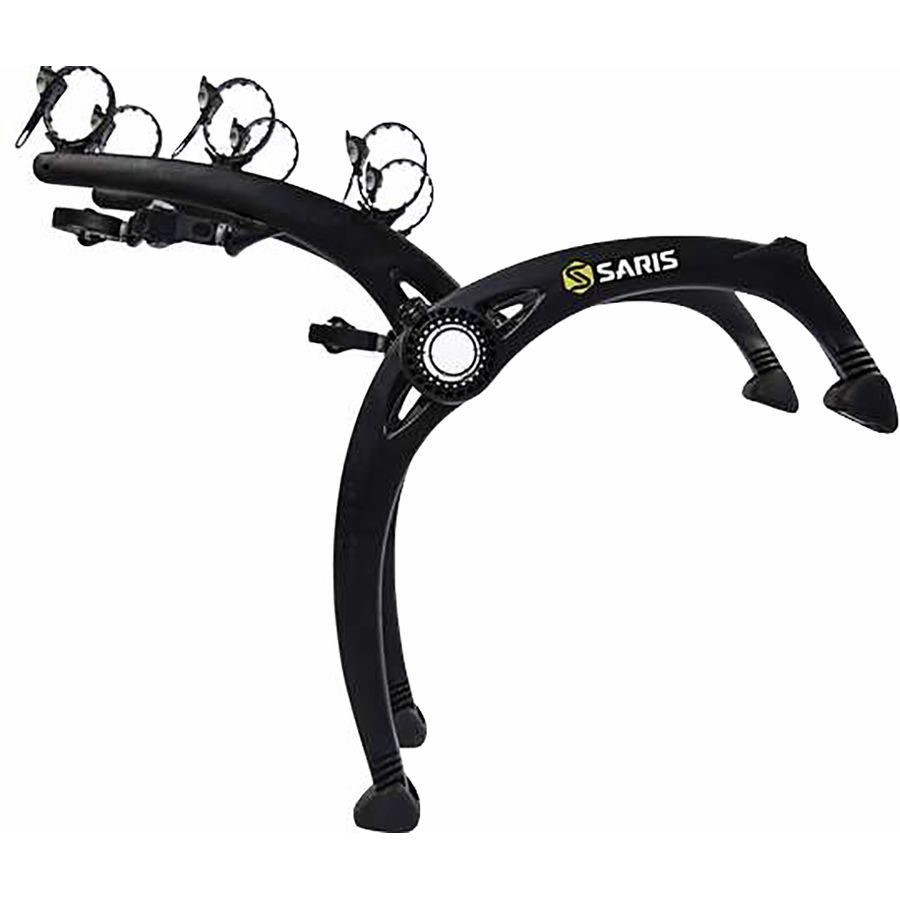 Gorgeous looks are not necessarily something that you'd automatically associate with bike racks. But the Saris Bones has those in large shovelfuls.
If a killer alien was trying to, ahem, get jiggy with your vehicle then this is what it'd look like. And the results (of the rack, not the jiggy thing) are awesome.
The rack is from Saris, who hail from Madison WI. They've been designing and making bike racks and kit for many years.
I'm recommending this rack for your vehicle when you don't have (or want) a hitch receiver and there's a number of reasons for this recommendation.
It looks great – which I've already mentioned

It's easy to use – it only takes a minute to fit it to your trunk with the straps and hooks.

It's strong – those hooks and straps hold the Saris Bones absolutely firmly onto your car. There's no swaying like you can get with a lower-end bike carrier

It is good for carrying 3 bikes up to a total weight of 105 lbs

The bikes are secured with a clever (and strong) triple locking mechanism

The arc design – take a look and you'll see that the bike-carrying arms are curved. There's a very practical reason for this as it holds the bikes at different elevations. That means that pedals, handlebars, and any other bits that stick out don't butt up to each other which would otherwise lead to damage
Like all trunk-mount racks, this doesn't lock to your vehicle like the hitch mounts do. There's a useful workaround to this though courtesy of Thule. A locking strap that secures the rack on your car. Clever design.
Take a look at the Saris Bones here:

---
Conclusion
Well, I hope this has taken some of the confusion out of buying a bike rack for your car?
The main choices are between hitch mounts and trunk mounts. Both have some great rack options.
Choose the one you'd like. Load up your bikes and away you go!
Have fun on your next big bike (and car and bike rack) adventure.
Bike Rack Recommendations: