Disclosure: I may receive referral fees from purchases made through links on BicycleVolt. As an Amazon Associate, I earn from qualifying purchases. But I always stand by my opinions and recommendations.
Bike commuting in rainy weather can be quite an intimidating prospect if you've never tried it before. The thought of arriving at the office in a soggy and bedraggled mess, with a brown muddy stripe up the back of your pants and a laptop that you can pour the water out of is enough to drive anybody to, well, drive rather than cycle. But, with the right gear and a little pre-prep, cycling to work in ANY weather is (IMHO) so much better than taking the car and wasting your life sitting in rush hour traffic or squeezing onto public transport.
There are a few aspects to consider when you're thinking about biking to work in the rain. We'll take a look at these in a moment and look at what you need (and why) and what you should be doing differently than for cycling to work in dry weather.
Firstly, you should choose your bike clothing carefully. Do you wear your office-friendly clothes and protect it with a waterproof layer over the top? Or, do you wear a standard cycling outfit and pack your office apparel in a waterproof backpack or pannier bag? We'll look at options for both and when I'd recommend you go down one route or the other.
Second, we'll consider what bag to pack your gear in. It might be clothing, as we've just mentioned. You'll also probably have other items such as a laptop, packed lunch, coffee and work papers.
Finally, we'll take a look at how you keep your bike in good condition when commuting in challenging weather conditions. There's a number of simple things you can do here to stop rainwater turning your bike into a rusted heap.
Let's go see what we need to bike to work in the rain.
---
Keep the rain out with this waterproof cycling gear combo:
---
Bike commuting rain gear – what do you need?
There are two general approaches you can take with choosing clothing for biking to work in the rain. The first is to wear your standard cycling gear (tight spandex outfit or whatever you feel most comfortable cycling in) with your office gear then stashed in a backpack or pannier for transportation. The alternative is to wear your office clothing and a protective layer over the top. There are pros and cons of each and the choice is up to you. There's no right or wrong here.
Wearing your office clothes and protecting them with a waterproof top layer is a great option for bike commutes that are relatively short. Up to 5 miles or so with no significant climbs to tackle on the way. It means that you can get showered and dressed in your workday finery at home, add waterproofs and away you go. With an easy commute like this, you won't be sweaty by the time you arrive. So you can put your waterproofs somewhere to dry out through the day and head for your desk.
Wearing your bike clothes and carrying your office clothes is likely to be a better option when you have a longer commute and/or when you have steeper hills to climb. You're likely to work up a sweat with a commute like this and some waterproofs can also make your clothes damp with condensation (Pro tip: look for waterproofs that are made from a breathable fabric as this can help you stay dry by allowing trapped moisture to escape).
There are some great waterproof clothing options available, which will keep the rain off from top to toe. Let's take a look.
---
Waterproof Jacket
For the wettest weather, I'm a big fan of the Transit jacket from Showers Pass. I've taken this jacket out in some fairly awful conditions recently and the waterproofing has been excellent. Breathability has also been amazing too – despite pushing hard on some steep hills, my jersey has always stayed dry (and I'm a sweaty kinda guy!) The Transit doesn't come with a hood (unlike other jackets in Showers Pass' range) but is compatible with the waterproof rain hood, which is available separately. Wet days here tend to come with cold conditions too and I've found that the slightly thicker fabric used on the jacket has kept me comfortably warm, even when I'm wearing just a jersey or button-down shirt.
One of the challenging aspects of wet-weather bike commuting is that visibility tends to be poorer than in dry weather. And, by that, I mean YOU will be harder to spot. A jacket that is highly visible will go a long way to making sure you get noticed and ensuring drivers see you in time to give you a wide berth as they overtake. I've been testing out the Transit in 'Yelling Yellow' which, as you might guess is a very bright, sunny yellow and easy to see even from a long way off on a gloomy day. It also has 3M Scotchlite reflective fabric elements stitched into the jacket on all sides and a reflective drop-down tail – these really 'zing' when you shine a light on them. This helps with visibility and the drop tail also gives an additional layer of protection from water splashing up from puddles and your back tire.
---
Waterproof Pants
Whether you're wearing office slacks or spandex shorts, I think it's a good idea to team up your waterproof jacket with a pair of waterproof bike overpants, like the Transit pants from Showers Pass. There are two reasons for wearing these. First, when the rain water beads up and rolls down off your jacket, it'll then carry on rolling down off your waterproof pants and onto the ground.
Second, puddles when cycling always lead to a soggy brown stripe up the backside of your pants. This is not a good look for the office and won't endear you to the boss. With waterproof overpants you'll still get that brown stripe on the way to work, but will then be able to whip off the overpants (revealing a dry and mud-free butt) and stroll confidently in for that 9am meeting with the CEO.
Look out for overpants that are waterproof (of course!) but also breathable. Your legs will generate a lot of heat as you pedal and a highly breathable fabric will help the moisture that you create through sweat to evaporate rather than form condensation. The Transit pants have a couple useful features that make them more suitable for cycling than a 'standard' pair of hiking overpants. They have reflective detailing (particularly down the sides of the legs) which helps make you visible in low light conditions. They also have shaping that helps on the bike – articulated knees (they're more roomy to make pedaling easier) and velcro cinch straps from the calf down to keep them from catching in the chain.
---
Helmet cover (or a hooded jacket)
It might seem obvious but it's a fact that the rain generally falls down. And, whilst this might sound a little patronizing, the point is that, even with a great waterproof jacket and pants, you're still missing a trick if you have a big hole at the top end (where your head goes) that will let rain water in.
A hooded jacket is my favorite way of stopping rainwater getting in or you could grab a waterproof helmet cover.
A hood or helmet cover has the added benefit of protecting your head from windchill – a problem that's similar to the brain freeze you get with eating too much ice cream too quickly, but much less enjoyable.
---
Socks/shoe covers
Your feet are liable to get soaked when you're cycling on a rainy day and being passed by drivers who seem to take a perverse delight in splashing you with as many puddles as they can. I suspect there's some kind of points scoring game that they're involved in.
But, whatever car commuters are up to, there are two ways to fight back: shoe covers or waterproof socks. Waterproof shoe covers fit over your shoes (obvious, I know) and your overpants then sit over the top of these. This allows the rainwater to run off your hood, to your jacket, to your overpants…and down and off your shoe covers. Your feet stay dry and your fancy office brogues keep their hand-burnished gleam.
There's an alternative though and it's one that I'm a fan of: waterproof socks. In the old days these used to be thick, stiff and inflexible. Times change, thankfully, and waterproof bike socks have become much thinner (similar to an athletic sock) and are soft and flexible. I've been trying out these Crosspoint socks recently and they're excellent. I find them particularly good for the office because I can wear them underneath my bike shoes and keep my office shoes tucked safely in my backpack, ready for a quick change on arrival at the office. A pro tip here is to keep your workday shoes at the office – they can be bulky items to transport back and forth and, to be frank, who's going to steal your smelly slip-ons?
---
Gloves
In wet and cold conditions, you need an excellent waterproof glove. In standard conditions you need to be able to pull the brake levers and operate your gears easily. In the wet (when it can be cold too) and when you're heading into commuter road traffic it becomes even more important.
I have tried a LOT (like a heck of a lot) of bike gloves in my time and spent a scary amount of money. My wife will be more than happy to confirm this. Sigh. But, in the process, I think I may have found the one-bike-glove-to-rule-them-all. It's the Crosspoint waterproof glove and you can see my review of them in the link above. The 'Too Long; Didn't Read' version of this is that I wear these gloves all year around. In the summer, they're super comfortable because they're thin and highly breathable. In every other season, come (mostly) rain or (sometimes) shine, they're amazing because they keep my hands dry and warm so that I can pull all the levers necessary. Love 'em.
---
Lights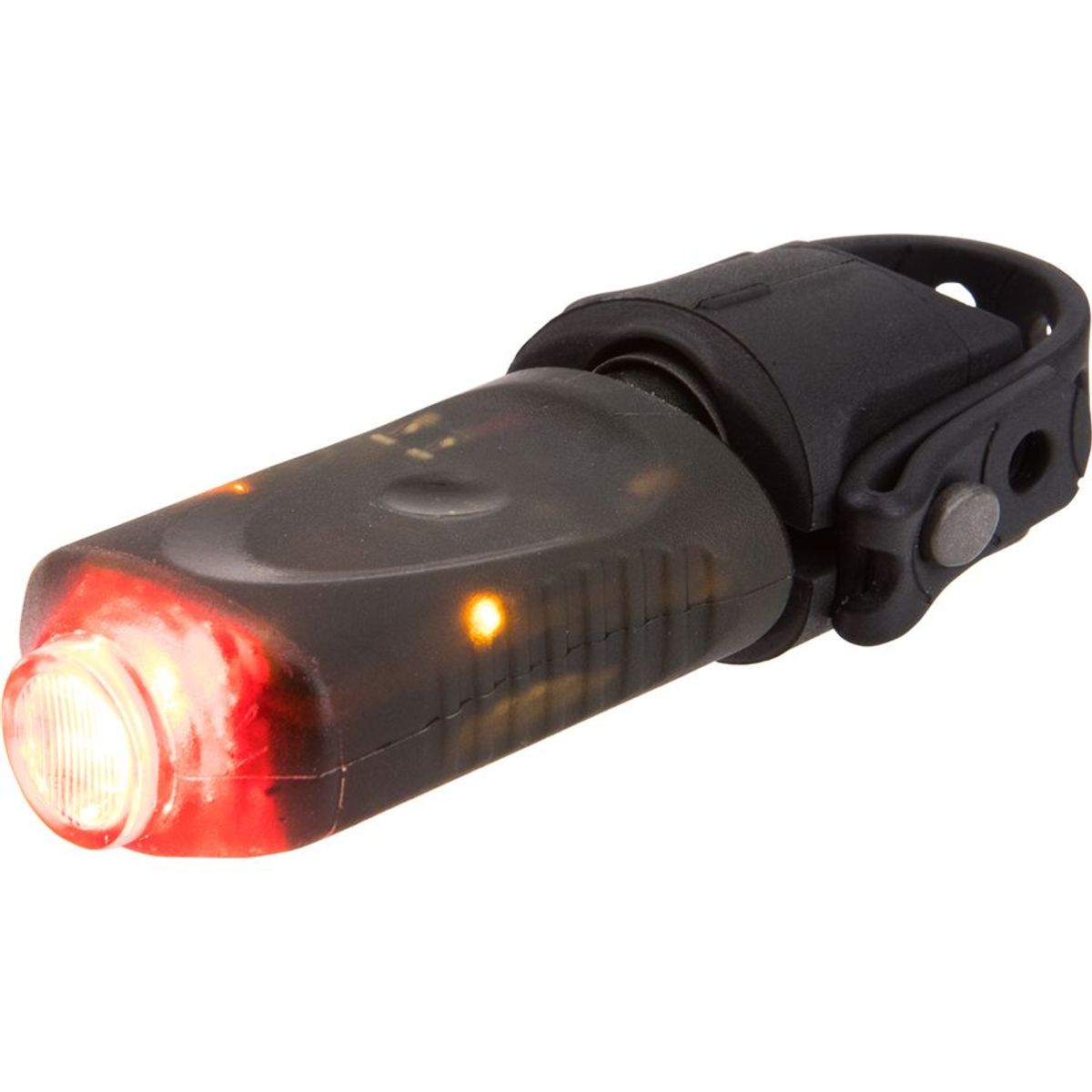 We've talked about how the weather can get gloomy when you're cycling to work in rainy conditions. Whilst you might be able to see fine, it can be quite difficult for other road users to see you. At least that will be their excuse for splashing you with yet another puddle on their dash in to the office. Look out for a good set of front and rear lights, like these ones, which allow you to 'Be Seen'.
I find that a flashing light can get people's attention better than a steady light, so it's good to get a front and rear set with this feature. These also come with sidelights so that you can be seen from all directions.
---
Fenders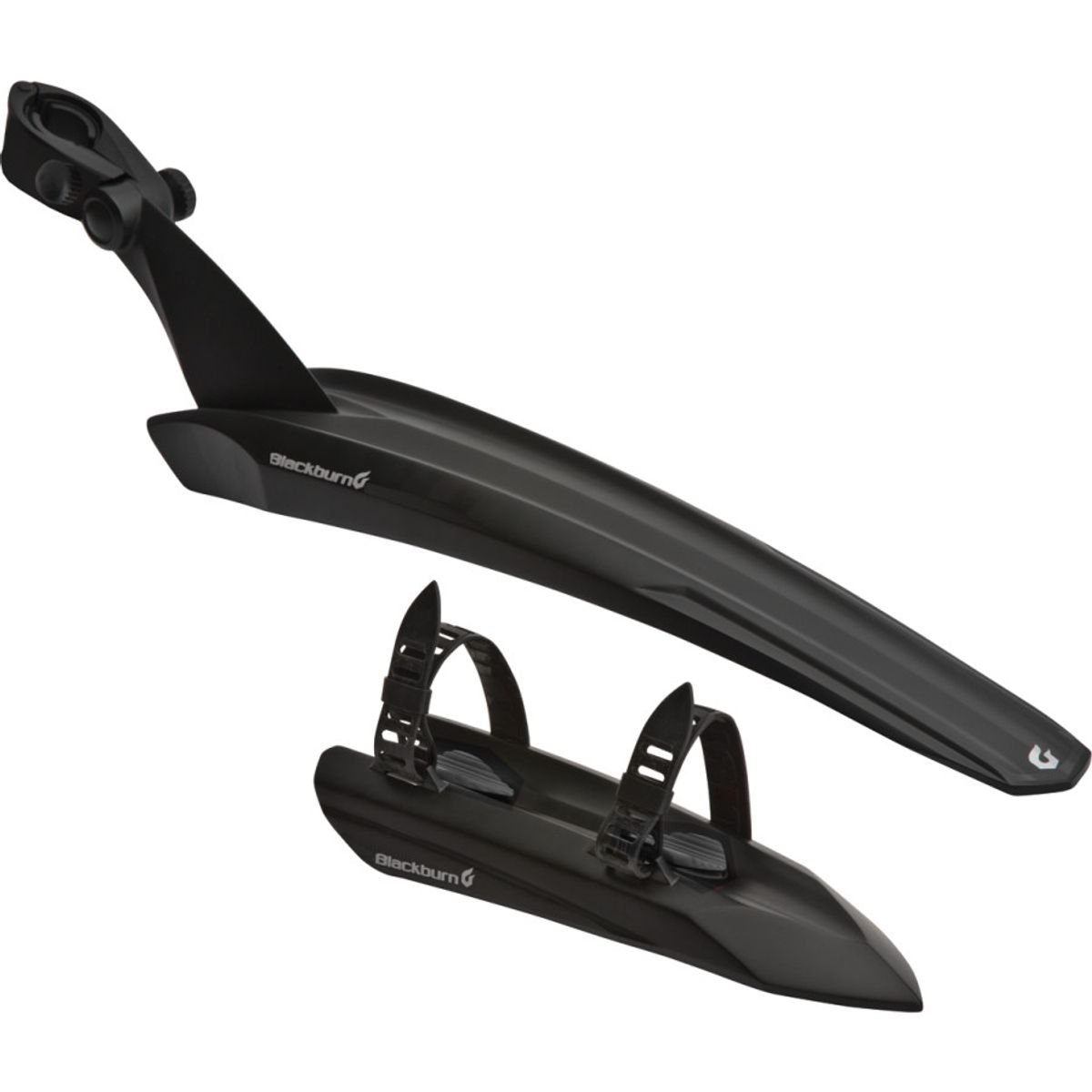 Fenders on a bike are not sexy.
They are, however, very useful. They do one job – which is to keep the puddles from splashing up on to you as you ride – and they do it very well indeed.
For bike commuting in the rain, I wouldn't be without them. But, here's my advice, grab a set of great front and rear fenders like these. Use them religiously for your bike commutes. On the weekend, when you want to look all cool in front of your buddies? Just unscrew them and leave them at home. It's a 5-minute job to take them on or off and it gives you a dry butt during the week and a badass fender-free image at the weekend. Job done.
---
How to keep your gear dry in the rain
We've already seen how to keep the clothes on your back dry during a wet weather bike commute. But, what about your office laptop? What about your important work papers? What about your sandwiches?!
Don't worry, we have solutions. In terms of carrying gear on a bike commute, there are two main ways of doing it. You can either carry a backpack filled with your stuff or put everything in a pannier bag. Backpacks are great when you have a smaller amount of stuff, maybe use a couple different bikes, and make a few stops on your journey. Pannier bags are best when you have more stuff to carry, it's heavier, and you have further to travel.
Whichever one you opt for, it's important to look for a bag that's fully waterproof – and that includes the zippers as well as the fabric itself. I like to pack everything inside a plastic garbage bag inside the backpack/pannier to make doubly sure that my stuff will stay dry in a downpour. Bear in mind that, if you're taking a flask or travel mug with you, then it's important to leave this in an outer pocket. Just in case you've forgotten to put the lid on correctly.
---
Looking after your bike in wet weather
Cycling in the rain can be tough on bikes. So, if you'll be regularly commuting on your bike in soggy conditions, then you'll need to do a little bit of regular maintenance in order to keep your bike in good condition.
Towel dry
Keep an old towel at the office and another at home. Use them to give your bike a quick rub down to remove the bulk of the water/mud straight after your ride. This doesn't need to be an hour long "towel and blow dry" like you'd get at an expensive hair salon – we don't have the time for that. Just get the worst of the rainwater and muck off before it can start rusting components.
Lube
After every wet ride, apply a little bike lube to the moving parts on your bike. Pay particular attention to the chain and derailleurs. This is a simple and fast job – apply the lube, wait a few minutes for it to soak in, then remove any excess dribbles with an old rag. Done.
Dry storage
Keep your bike stored in a dry area both at work and at home. Ideally inside, but you could also keep it stored under an overhang to keep the worst of the rain off. Alternatively, if there's nowhere sheltered to store your bike, then keep a protective bike cover handy to save your pride and joy from the weather.
---
Conclusion
Lots of folk are put off cycling to work in wet weather, but I actually think it's a lot of fun. What isn't fun though is if you're so worried about your laptop getting drenched or your pants getting soaked and muddy…that you can't enjoy the bike ride. That's where the right gear is important. A good quality waterproof cycling jacket and pants will take you a long way here and, with your laptop and lunch stashed safely in a protective waterproof backpack or pannier, you can literally take on any weather.
Stay dry. Enjoy the ride.
Keep the rain out with this waterproof cycling gear combo: