Disclosure: I may receive referral fees from purchases made through links on BicycleVolt. As an Amazon Associate, I earn from qualifying purchases. But I always stand by my opinions and recommendations.
If you've just started on your Peloton journey, then you've probably realized that it's a hot and very sweaty one.
Cycle outdoors and you'll generate plenty of body heat as you pedal along. Because you're moving along, there'll be a nice cooling breeze that will offset that and keep you at a comfortable temperature.
Cycle indoors on your Peloton though and it's a different story altogether. First up, it's a workout not a gentle-pedal-through-the-park-listening-to-the-birdies-sing. As we know, Peloton workouts are hard, hard work and the only sounds you'll hear are your lungs struggling to draw gasps of air in and your screams of anguish as the instructors casually tell you to turn up the resistance.
Secondly, because you're stationary and indoors, there won't be any of the same cooling air soothing your sweltering hot skin.
Both of these factors mean that Peloton rides can be hotter than hell. So, what you need is the heavenly caress of air from a powerful fan. Trouble is, there's a lot of fans out there. Many of these look the part but give out no more than a feeble puff of air.
Which one do you go for?
Well, I've done some in-depth research on your behalf to track down the best fans out there for Peloton workouts. Pick the one that's right for you, then give a (dry) chuckle on your next live-streamed class as you see a bead of sweat running down the instructor's face.
Let's go take a look now.
The perfect fan to cool you down on your Peloton bike is the

WAHOO FITNESS KICKR HEADWIND

Fan.

Targeted Airflow Pattern to keep you cool during the toughest workouts and with sensor-controlled air speed that changes with your heart rate
---
How To Stay Hydrated On An Exercise Bike
Whether you're a Peloton addict, spinner, indoor cyclist or exercise bike lover, the one thing we all have in common is desperately trying to stay hydrated. Here's how to do it...
Read more
---
Does the Peloton bike have a fan?
Unfortunately, not! You would've thought it would, wouldn't you? But sadly not. So, that means we've got to take matters into our own hands and get a great fan to cool our sweaty brows during those intensive workout classes. Let's take a look at where you can put a fan in your 'pain cave' for maximum cooling effect.
Where can you put a fan for spin bike cycling?
There are three places that you can put a fan to cool you down when you're on your Peloton. These are:
On you

A tower fan next to you

A floor fan next to you
Each of these options has its own advantages and disadvantages. My personal favorite? Well, that's the floor-standing fan. We'll take a look and see why in a moment.
Not surprisingly, each of these options requires a different type of fan. So, let's move on and see the best fans in each category.
---
Read this next:
Peloton Volume Too Low (Here's The Answer)
---
Best fans for indoor cycling
Different options are available for air blowing on your Peloton, depending on your requirements and your available space. Let's take a look at the pros and cons.
Dedicated floor-standing fan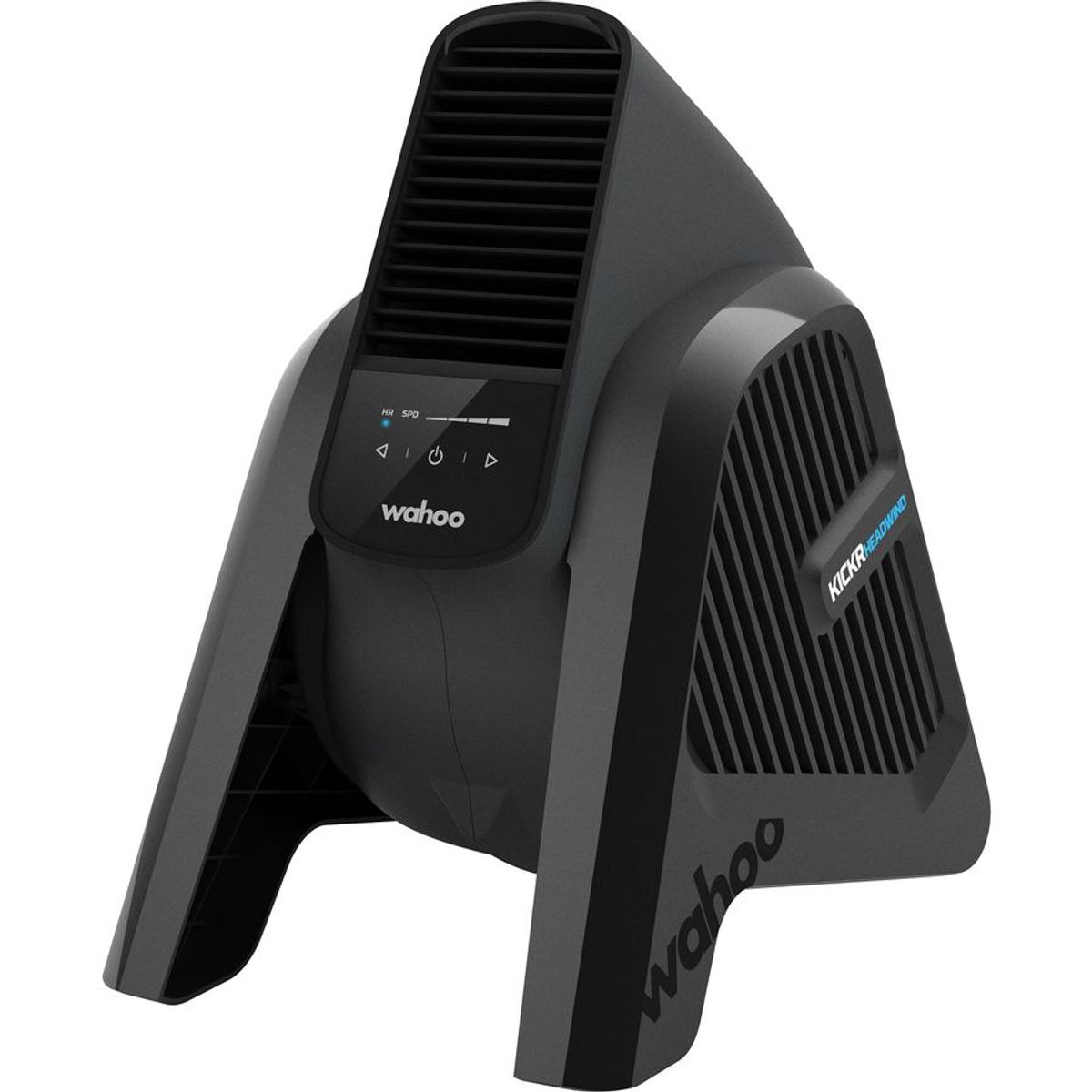 Wahoo Fitness KICKR HEADWIND Fan
If you're looking for the ultimate cooling tech for your Peloton rides, then you need to look no further than this dedicated indoor cycling fan from Wahoo.
It has a special targeted airflow pattern, which means that it's constantly directing air at the bits of you that are getting the hottest and sweatiest, providing welcome relief. There's a smart feature to it which I love as well – that's the ability to connect the KICKR up to a heart rate monitor so that the fan can adjust the power up or down depending on how hard you're working.
There's a massive ability to customize the airflow on the KICKR and that, combined with the max air speed of 30mph, means that the fan is a great pairing for your Peloton.
---
Cooling neck fan
When I first saw these my immediate reaction was, "Gimmick!" But that rapidly changed to, "How could I've lived without these for so long?!"
Looking like the illegitimate love child of a pair of headphones and a couple of desk fans, these are a great little bit of tech. Essentially, they're fans that you wear around your neck. The fans can each be individually adjusted so that they're directed at whichever part of your face and/or neck that needs cooling the most. That's useful because (I find) it's the perspiration dripping down my face that's the most distracting when I'm pedaling. They have an integrated Li-ion battery (rechargeable by USB) and have a run time of up to 6 hours…which is probably longer than you can stay on the bike for. They have three power levels depending on how much airflow you need, which is a handy feature. Plus (and I secretly love this feature) they have integrated LEDs, so you're ready for your next Peloton rave.
I think the real beauty of these neck fans is that they give a very directed source of air. That means that, unlike with bigger fans, the entire room isn't cooled down. That's certainly a benefit when you have other people in the room who aren't necessarily putting in the amount of high-octane cardio as you are. Shame on them.
Feedback from purchasers is absolutely glowing with one reviewer saying they'd give this "6 stars if they could".
---
Floor-standing Tower fan
Honeywell QuietSet Whole Room Tower Fan
A tower fan like the QuietSet from Honeywell is a great option for Peloton workouts.
As it has a tall upright design it gives out airflow over a bigger vertical distance than non-tower fans. That's useful because it gives you a cooling effect from your cycling shoes to your sweaty brow.
The QuietSet is designed to provide the feeling of an all-over spring breeze, so you won't feel like you've set up your bike in a wind tunnel. It will also provide airflow (and therefore cooling) throughout the entire room generally. That can be useful if your room is particularly warm anyway, even before you've stepped on the bike. It's also useful in a home gym where you might have other equipment zones set up – perhaps a running machine or a stepper. Adding to this is a great oscillation feature (which you can turn on or off as needed).
As the name QuietSet suggests, this is a very low-noise machine. Buyer, JMR from Texas, describes this as "Super quiet and powerful". Kerra from the US says that all settings apart from the very highest (#8 power) are "very quiet".
Couple of features which are specifically good news for Peloton riders. First up is the remote control. This is useful because it means you can adjust the power setting without stopping pedaling (even if you might want to). So, there's no need to interrupt a workout to, for example, increase the airflow as you move from warm-up phase to a full-on hill climb.
Also, the footprint of the QuietSet is much smaller than other fans that have a bigger diameter set of fan blades. That means that the fan takes up less floor space. A bonus as many Pelotons are positioned in previously unused spots in the home where there isn't necessarily much free space available.
---
Floor fan
Lasko 20″ High-Velocity QuickMount Fan
The Lasko High Velocity is an incredible machine and perfect for Peloton.
First up, those 20" blades are powerful and kick out a real blast of air. Position this on the floor in front of your bike and you'll instantly feel the benefit. Interestingly, the High Velocity also comes with a QuickMount system that allows you to easily fit the fan to your wall. That's great because of two reasons. First, if you're like me, you might generate most heat and sweat from your head. With the fan mounted on the wall, it will be much closer to that hotspot and therefore give you most cooling effect. Secondly, if you're short on floor space, this is great because it completely removes that extra clutter from your home gym.
The bracket allows you to position the fan at whatever angle is best for – whether it's on the floor or mounted on the wall. It also has 3 power settings, so you can change it quickly and easily depending on the ambient temperature or the sweatiness of the workout.
As MD from the US says, "This fan is a beast!" it "moves air like whirlwind on hot days".
Because the fan is so powerful, it is also noisier than other more feeble units. If you find that the volume from your Peloton is too low, grab yourself a pair of over-ear headphones. Plantronics do a great set – their BackBeat FIT 6100.

---
Last word on fans
I hope today's article has been of use in helping you decide what fan is best for you and your Peloton workouts? There are a lot to choose from out there and it can be incredibly confusing, can't it?
Peloton workouts can be very sweaty, so help manage your temperature with one of these great picks.
Enjoy!