Disclosure: I may receive referral fees from purchases made through links on BicycleVolt. As an Amazon Associate, I earn from qualifying purchases. But I always stand by my opinions and recommendations.
Today I'll be attempting to convince you to stop spending more time and even more money fixing up your old commuter bike. Because, let's face it, you already know two things: (1) that sweet ride you bought 26 years ago…doesn't look quite so sweet any more. Doesn't matter how much money you get your local bike shop mechanic to throw at it, it's still going to be rusty, and the gears will still not shift correctly, and to be honest, it was really never that sweet to begin with, was it? But it was all you could afford at the time and it was the only one they had in the store that wasn't a hideous color.
Oh, and (2)? Yeah, you've heard all about these new ebikes. You've seen how cool they are (they really ARE a sweet ride, no doubt about it). And you're sick, like absolutely sick, to the very core of your being about being overtaken by grinning fools on their damned electric bikes. If it happens again (and you know it will before too long) you are probably going to do something that you might very well regret quite a lot and will probably get into quite a lot of trouble with the police for.
"you and I both know that you want to ditch your old commuter bike and swap it for a new electric commuter bike"
So, what I'm saying is that, you and I both know that you want to ditch your old commuter bike and swap it for a new electric commuter bike. What we're all here for today is to hone our arguments for the upcoming debate with our Significant Other / Bank Manager / Whoever about why an ebike purchase is absolutely essential right now and why there's no point is blowing a single cent more on that ancient old rust bucket of a bike you've currently got.
Am I right? Yeah, okay, so choose your favorite arguments from the list of powerful points below. Salivate over the shortlist of ebikes – you might find your new sweet ride. Then, go forth, and purchase!
---
High-spec bike at a budget price

Frame options for riders 5'4" to 6'4"

Simple to use - jump on and go!

Selling fast - don't miss out!

Low step design for easy boarding

Rear cargo rack for storage

Front suspension and fenders

Frame style won't suit everyone

High-performance road bike with electrical assistance

Fully-integrated battery and motor - hidden power!

Light & responsive carbon frame
---
What's wrong with your old commuter bike and why shouldn't you fix it up?
Where do we even begin with this one? Look, I'm all about cleaning up, fixing, and generally restoring old bikes. I've spent many long hours, weeks, and even vacation time to try and coax a little more life out of an old mountain bike, or spruce up a rusty-but-sorta-trusty commuter bike. Or even, EVEN, try and make a single component actually move (any part of the drivetrain, wheels, or forks would have done) on my wife's old road bike from her teenage years that my inlaws had been storing in their garage ("just in case!") and brought over to us one weekend after they'd been clearing out their own garage. Back in the day, this bike probably made my wife-to-be a speed demon on the local circuit. But now? Now, it's stuck in OUR garage, where it will undoubtedly be until we can find another gullible person to pass it along to. Sigh…
Look, what I'm trying to say here is that, bikes can and should be repaired and restored for as long as you're able. But, when their time is up, they should be sent off to bike heaven (with a tear in the corner of our eye) and we should, instead, invest in a smart new bike to take us forward into the future.
Here's a guide to what to look out for when determining whether it's time to replace your bike:
More than 25% of the visible bike surface is rust
Commuter bicycles need to be out in all weathers taking you to your workplace. Because of this, they do tend to suffer from rust more than other fair-weather bikes. Rust starts off as a tiny little patch that you can barely see and then, literally overnight, it takes over your bike. Not only does this look unsightly (refer to 'Balaclava' point below) but it stops components from turning (chains, derailleurs, hubs, etc) and, in wet weather, will mix with the water and liberally spray your pants leg as you pedal along. Unless you're wearing a particularly rust-colored pair of work slacks that day, this is unlikely to get you bumped up the promotion list anytime soon.
The clanking noises are louder than 85 dB and are stopping you from hearing other road users
All bikes clank and make clicking noises as you cycle*. Much like feeling the odd ache and pain, or twinge and click, in our own bodies as we get older, these are noises that become familiar to us and we can actually grow to love about our bikes. But, there's a tipping point. One day, you'll realize that those low-level noises that you used to find so endearing about your bike are now intensely irritating to you. You can't hear yourself think any more. You can't hold a conversation with a fellow pedaller. You can't even hear the car commuters as they accelerate hard behind you. The noises are now too noisy. They aren't going to get quieter and it's time to retire your bike and replace it with a new model.
*actually that's not strictly true these days. Some bikes, such as Vvolt's range of ebikes, have done away with a rattly bike chain and replaced it with a carbon belt drive. These are way superior, requiring minimal maintenance and no ear plugs. Worth considering. See the details below on one of my favorite Vvolt bikes.
Over 50% of the bits-that-can-go-wrong are now no-longer-available-to-purchase
We had a washing machine that was 25 years old. I was quite smug about this. I'd watch all of my friends replace theirs every few years (and listen to them complain about the cost). From time to time, little things would go wrong with our machine. The door seal would need replacing, a hose would get blocked, brushes would need swapping out. These were cheap fixes that I could do by myself. Oh, how I chuckled and counted up the savings I'd made! But then the timer went and it turned out that the manufacturer wasn't making these any more. As we waited for the new machine to arrive (which took far too long) we had to do our laundry at friends' homes in their machines. My wife has never let me forget this.
I'm talking about washing machines, but same thing goes with bikes. Replacement parts are only available for so long on old bikes and you generally can't replace obsolete bits with zip ties.
It's not even comfortable to ride any more (was it ever?)
I think we put up with more discomfort in our youth than we're prepared to accept as we get a little older. Stiletto shoes, Economy airline seating, yoga classes. Think back and you'll probably find that your existing bike was never actually that comfortable when you first bought it. Sure, the color was amazing, it was the hippest brand at the time, and it drew a few admiring looks from co-workers when they saw it parked in the office bike rack. But it was never actually that comfy to sit on and ride, was it? Now? Now, it's even worse. Hard to tell whether it's the bike or the body that's changed but now it feels as if the angle of every single component is all wrong for you.
You ride year-round in a balaclava because you're too embarrassed to be seen on your old bike
Balaclavas were created to keep our faces warm in the depths of winter, make us look like ninjas, and allow us to rob banks without fear of doing jail time afterwards**. That's all great but, when you find that you're wearing one in the height of summer, just so as no-one recognizes you and laughs at your old bike… it's time to change. Think of the cool breeze on your ears, the wind tousling your hair, and the light tan developing on your cheeks, and go buy yourself a new bike that you'll be proud to ride.
**please don't rob any banks as it would make me very unhappy and probably harm your future job prospects. Thank you.
---
What's so good about electric hybrid bikes?
Ok, so we're all agreed, yeah? The old commuter bike has got to be replaced with a new bike. You've seen these new-fangled electric bikes, you've been passed by riders on them too many times, and you want one for yourself. What's the deal with ebikes? What's so good about them? Why do you need one in your life right now?
Here's the deal, ebikes are awesome. Ebikes for commuting are even better.
Pedal hard when you want to, take it easy the rest of the time
On your old bike you need to pedal hard all of the time if you want to get any place at a decent speed. Not so with ebikes. Sure, you can turn the pedal assistance down (or even off) if you really want to. But, frankly, who's going to do that? Dial it up to the max, sit back and enjoy the world go by as you easily and silently coast into the office.
Arrive at the office without the sweat
Let's face it, sweaty patches on your office shirt is not a good look. On a traditional bike though this is hard to achieve. You can pedal a little slower, you could wear fewer clothes, you could stop for a breather every so often. If you're anything like me though, I just have to look at a standard non-electric bike and the perspiration starts to flow.
In contrast, ebikes are, quite literally, no sweat. The electric motor and battery take the strain and that allows you to bike to the office without ending up as a sweaty mess that no amount of anti-perspirant can counteract. Your co-workers will thank you.
Haul that heavy laptop and workday gear…with ease!
Office laptops are designed to be amongst the heaviest things on earth. Dragging those to and fro is no easy task on a normal bike, as you know. Add in all the other stuff that you need to take with you (lunch, change of clothes, makeup, blah, blah) and you'll notice the strain on your legs. The beauty of ebikes is that, no matter how clunky and old the laptop, or how sizeable the packed lunch, you can haul it all with ease. And, whilst this won't help with your campaign to get a replacement computer, it will make transporting the old one easier.
Laugh in the face of old age, headwinds and tired legs
Cycling is fantastic. Cycling to work is a delight. But some things get in the way of a good time on the bike: legs that are too tired to push you up the hills, headwinds that make you feel like you're going backwards. And old age, because old age generally can suck. When you're cycling on an ebike though, all these problems tend to just drop away. Your legs feel fresh. You feel as though you've got a tailwind whichever way the wind is blowing. And old age? Well that's awesome on an ebike because you can cruise past those young whipper-snapper commuters on their non-ebikes.
Beat cars on your commute
Car commuters think that they get to work fast in their metal boxes. What they don't see (or refuse to see) is the sheer amount of time that they spend not moving and stuck in gridlocked traffic. Now, car commuters might very well be able to beat commuters on standard bikes but they haven't got a chance when compared to ebike riders.
If there's a better feeling in the world than overtaking car commuters who are stuck in traffic and slowly turning into their very own version of Michael Douglas from 'Falling Down', I have yet to find it.
---
How to choose a great electric hybrid
The good news is that, given that you're already cycling on a commuter bike, you'll have a feel for the kind of bike you're looking for. Electric hybrids are essentially just a standard hybrid bike with an integrated electric motor, power source, and controller. If you're comfortable with the forward-leaning geometry of a road bike, go with an electric road bike. If you like to ride something a little more upright or leaning back, then choose an ebike with a more relaxed geometry. Either way, you're all good.
You'll find that the battery on many ebikes is bolted on the frame. On some bikes though you'll see that the battery is integrated into the frame for a sleeker look. Bikes with integrated batteries like this tend to be at the higher end of the price spectrum. The important things to be aware of are the power and capacity of the battery (will it be capable of delivering the mileage you need to get you to the office?) Also whether it can be taken off the bike for charging and security – it's not ideal having to drag your entire bike up to your desk to charge it during the workday, and an ebike without its battery fitted is a lot less attractive to would-be thieves.
For the motor, look to see what the power output is of this and also check to see it's from a 'quality' brand name. The motor can be placed either on the rear hub or at the crank. For commuting on pavement, it doesn't matter a great deal which you go with. Hub motors tend to be cheaper than crank. Crank motors tend to be found on pricier bikes and give less tendency to pop wheelies when your rear pannier rack is fully loaded.
Charging times vary from bike battery to bike battery, however you'll find that most are well within a standard workday to fully charge them up. You can also charge them overnight when you're back home. What this means is that, when you're looking at the mileage range for a bike, you will effectively be able to count on double this range: run the battery down completely on the way in, charge it up during your shift, and then run it down again going home. There has to be some benefit to spending all day at the office, right?
In terms of maintenance, you'll need to do the standard fixes and repairs as you would on a normal bike. Although keep in mind that this is a NEW bike, so you won't have to deal with any of the issues you're currently facing keeping your OLD bike going. You'll need to charge the battery, but otherwise there isn't a great deal that you need to do to the electronics, which is great news.
Final quick word on the cost of running an ebike – it's virtually nothing. Marginally higher costs for servicing/components and a frankly measly amount of around $18 A YEAR(!) for electricity. Less if your boss let's you charge your battery at work. 😉
---
Bike recommendations
Ok! We know why we need to retire the old bike. We know why electric hybrids are so good and how to choose a great one. Now, let's take a look at some of my favorites.
RadMission Electric Metro Bike
I am VERY excited about this ebike from one of the largest electric bike manufacturers in the US, Rad Power Bikes. The RadMission packs a helluva lot of ebike-goodness into a package that they retail for less than a thousand bucks. What's not to like?
Rad Power have teamed up a single-speed bike, straightforward electronic controls, powerful motor, reassuringly safe hydraulic brakes and a comfortable-for-commuting upright riding position to create a bike that is ideal for battling through rush hour traffic. There's a wide variety of colors to choose between – from cool gray, black or white (to match your pin-striped suit) to more edgy reds and blues. There are also two frame styles to choose from – a high-step and also a mid-step – to give a height range from 5'2" to 6'4". Oh, and did I mention the sheer variety of optional add-ons you can get for your RadMission? Full fenders to racks-to-go-anywhere, and lots more besides.
The RadMission sets the standard for sub-$1k electric commuter bikes +Read more
——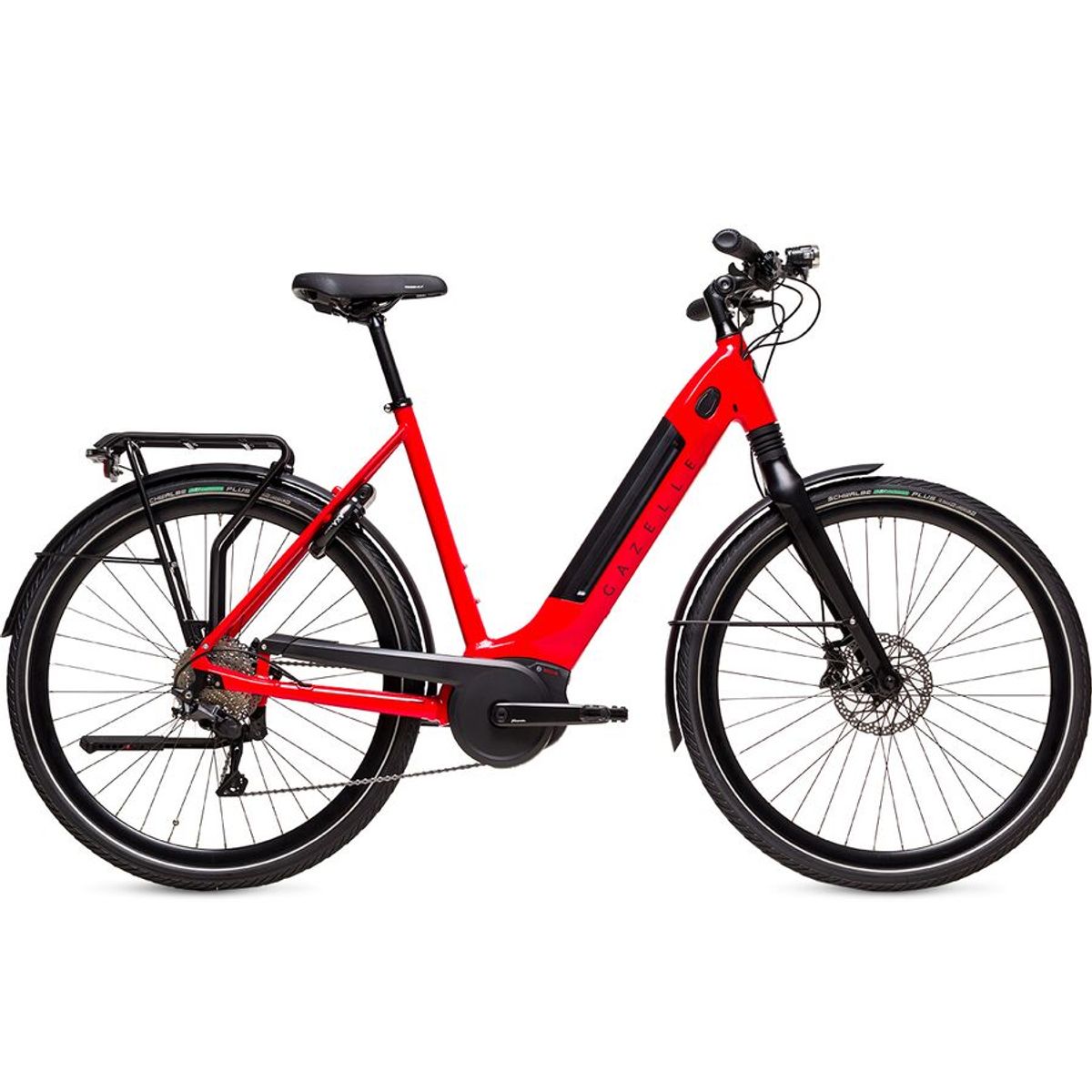 Gazelle Ultimate T10 e-Bike
Mounting and dismounting a commuter bike that is top-heavy and laden with racks full of tech, paper files, lunch, and a change of clothes can be a tricky business that's fraught with danger. Add in the risk of ripping pants, or showing off underwear, when boarding a bike with a horizontal top tube and you can see the benefits of a low-step bike like the Ultimate T10 from Gazelle. But the T10 is so much more than just being an easy-boarding ebike.
The Bosch mid-drive motor will sweep you along to the office at up to 28mph, allowing you to get to work impressively early (or have an extra 15 minutes in your bed). And, it does that in both style and comfort too. There's a pair of color options to choose from (Champion Red and Ivory Gloss) and 3 different frame sizes to suit a range of rider heights. There's an integrated battery tucked away in the downtube, plus front/rear fenders, chain cover (to stop oily smears on your pants), and a rear rack for your gear. Great package +Read more
——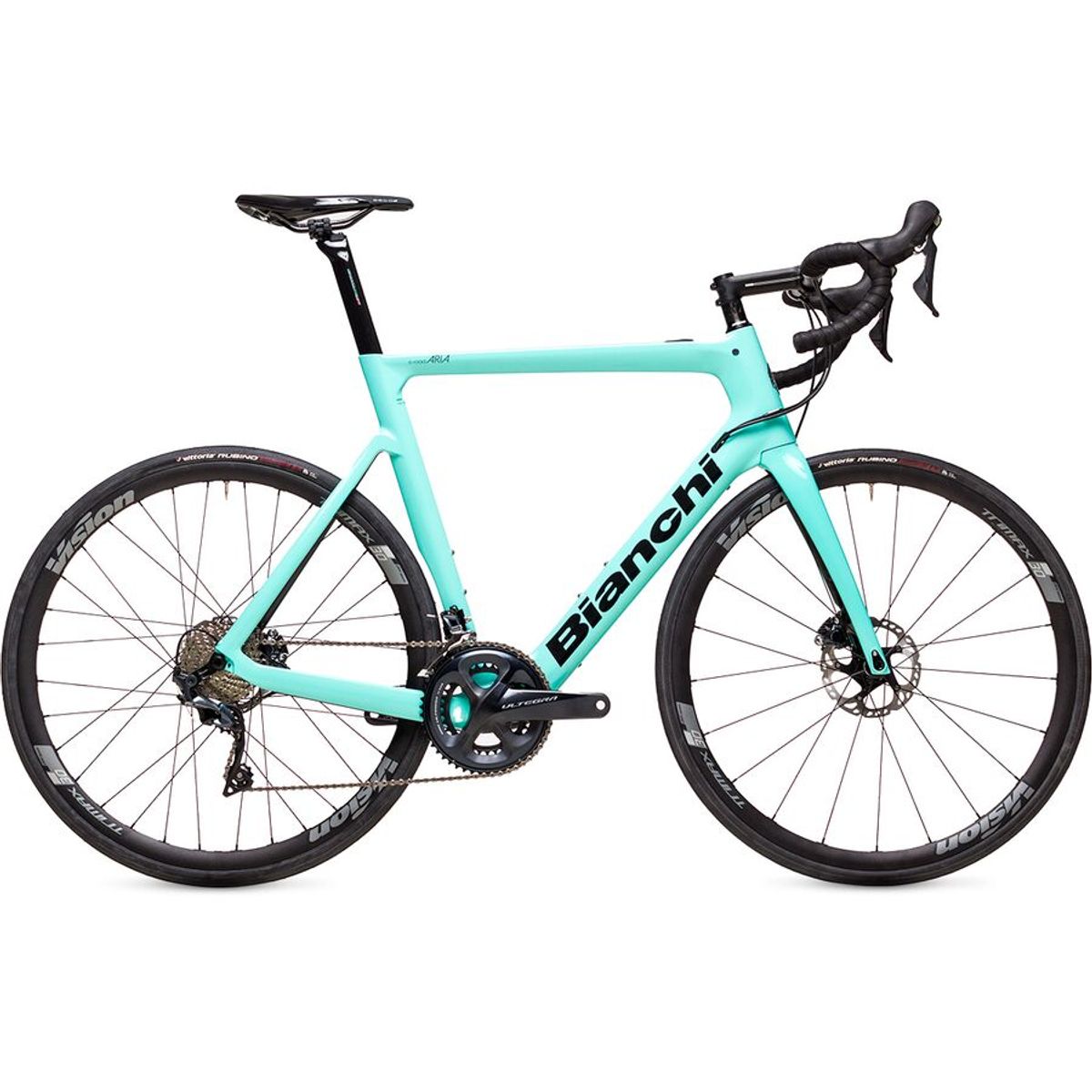 Bianchi Aria Ultegra e-bike
Ok, I get that I'm stretching the definition of a 'hybrid' here somewhat, but hear me out. If your existing commuter bike is a road bike and you like the riding position, but want a little extra 'oomph' in your legs on the way to work, then the Bianchi could be the perfect commuter bike for you. The long-standing Italian manufacturer has taken everything it knows about creating world-beating road bikes and added in a power system that you'd be hard-pushed to even know was there. Amazingly those sleek and stylish lines are hiding a battery and motor inside the full carbon frame and signature Celeste blue paint job – look closely at the images and you still won't be able to spot them. And, it's not just about pedal-assist either as there's a full suite of Shimano Ultegra R800 components to back it up. The Bianchi Aria is not a cheap commuter bike but it will allow you to crush all other bike commuters who try and outpace you on the way to the office and back +Read more
——
RadMini Electric Fat Bike Version 4
With space being at a premium these days it's useful to find a bike that can be stored away virtually anywhere. Many offices won't have bike parks and you may be forced to try and cram a bike under your desk. Equally, at home, you may not have a suitable spot to keep your bike and walking sideways past it in the hallway becomes tiresome after not very long at all. Enter the RadMini! Look closely at the bike and you'll see a quick-release lever at the middle of the top tube. This is part of the system that Rad Power have created allowing you to easily transform your RadMini from full-sized ebike to barely-there folded bike. A bike like this is also useful when you're combining cycling with trains, buses or car-pooling for your commute +Read more
——
Vvolt Alpha ebike
Vvolt is the new kid on the block. But unlike a sharply-suited boy band from the 80's, the Vvolt Alpha has got The Right Stuff underneath the hood to match its good looks. Let me take you through it. Step By Step.
You might not have heard of Vvolt, but they're the sister company of Oregon-based Showers Pass, a company that has been making waterproof cycling apparel for many years. They've taken the same approach to Vvolt ebikes as they have with their cycling apparel – high-specification products at highly-affordable pricing. The Alpha is a high-step ebike (there's also a companion mid-step bike available, the Alpha S). It has everything that you'd expect from a great commuter ebike (powerful motor, light-but-sturdy frame, hydraulic disc brakes) but it also has something that you don't often see on a bike – a Gates Carbon belt drive. Forget dirty, clanking chains and derailleurs that are noisy, rusty and never shift gears properly. Instead, the belt drive is smooth, quiet and never needs oil so won't leave a 'tattoo' on your leg or pants +Read more
——
RadWagon 4 Electric cargo bike
There are times when you need to haul a LOT of gear on your bike when you're commuting: Entire filing cabinets-worth of paper when you need to take work home with you, or crates of donuts when it's Feed-everyone-in-the-office-with-sugary-treats Day. For days like that, you need to break out the Big Guns. And, just about the biggest gun of all is the RadWagon 4 electric cargo bike. Amazingly, this bike can carry up to 3 people (2 on the rear rack), has a cargo capacity of a whopping 350 lbs(!) and can transport people and cargo up to 45 miles on a single battery charge. Given the payload you can carry on the RadWagon it's useful to see that there's a low-step frame design (no need to tilt the bike over to the side for boarding) and a double kick stand (so you can keep the bike upright whilst you load and unload). Not only is the RadWagon a great weekday commuting option but it also performs superbly on the weekend for family trips out. In fact, when I'm reincarnated, I want to be one of those kids on the back of the RadWagon in the website photos. Looks like fun +Read more
---
High-spec bike at a budget price

Frame options for riders 5'4" to 6'4"

Simple to use - jump on and go!

Selling fast - don't miss out!

Low step design for easy boarding

Rear cargo rack for storage

Front suspension and fenders

Frame style won't suit everyone

High-performance road bike with electrical assistance

Fully-integrated battery and motor - hidden power!

Light & responsive carbon frame