Disclosure: I may receive referral fees from purchases made through links on BicycleVolt. As an Amazon Associate, I earn from qualifying purchases. But I always stand by my opinions and recommendations.
Back in the day, we used to go to Halfords for spark plugs and, when I was a teenager, to drool over the latest Blaupunkt car stereo. I could never afford the stereo, or even the spark plugs for the Ford Escort RS Cosworth (that I also had no hope of buying). But a kid can dream, can't they…?
Aah! The memories…
You knew where you were with Halfords back then. But, times change, and Halfords have now expanded their product range to include everything from breathalysers to drones. Halfords also has a range of electric bikes for sale, covering various categories of ebike, including:
Adventure bikes




(Click on each category to jump straight to that one)
I've done some research to determine which is the top bike in each of the categories and how these compare to other electric bikes for sale in the UK today, taking into account real feedback from Brits who've bought and ridden them. I'll take you through my findings in a moment.
Make sure you read right through to the end of my article because I've also included a handy guide for what to look out for when buying different types of electric bikes in the UK, answering questions such as:
So, how does Halfords electric bike range measure up to the competition? Let's take a look.
---
Best value ebike UK
When you start looking into electric bikes it can be very confusing as there are so many different variations to choose from. The best place to start is to decide what type of cycling you'll be doing, such as muddy mountain biking, speedy road cycling, or last-mile-from-the-train-station bike commuting.
Once you know this it will narrow down the options dramatically to the categories below. Let's go through these now and see how Halfords compares to the best alternative.
---
1. Halfords electric mountain bikes

Voodoo Bizango
The Bizango is a fantastic hardtail mountain bike in vibrant red and an eye-catching aluminium frame design that will look awesome as you fly down the trails. It is one of Halfords top-rated eMTBs.
A fully-capable mountain bike with front suspension in the form of Rock Shox Judy Silver TK. It has Shimano hydraulic disc brakes fitted front and rear for awesome stopping power. Shimano also supply the mechanical Deore gearing system with 10 gears for extra ease in getting up those hills, taking the strain off the battery in order to keep the charge for longer. For smooth rolling and excellent grip there are 29" wheels with Schwalbe Nobby NIC Performance Folding tyres (my favourite tyres).
The bike is available in 3 frame sizes (17", 19", and 21") and is suitable for riders of a wide range of heights (see below), depending on the frame size, and up to 120kg in weight. The bike itself weighs in at around 22kg.
| | | |
| --- | --- | --- |
| Height (Inch) | Height (cm) | Frame Size |
| 5′ 5″ – 5′ 10″ | 165 – 177 | 17″ |
| 5′ 8″ – 6′ 1″ | 172 – 185 | 19″ |
| 5′ 11″ – 6'3″ | 180 – 190 | 21″ |
This is a great looking eMTB from Halfords to start off our list. But what is the best alternative?

---
Alternative to consider:




Westhill Phantom Electric Mountain Bike
The Phantom is a rather fine-looking bike, isn't it?
Made by Devonshire-based, Westhill Electric Bikes, this certainly looks the part. Let's dive in and take a closer look.
As Westhill's flagship electric mountain bike, the Phantom comes with a host of quality components. It has Shimano Deore gears (3×10) and Tecktro hydraulic disc brakes, with the Selle Royal gel saddle being an addition that your backside will definitely thank you for.
The tyres are the very excellent puncture-resistant, Hutchinson Taipan at 27.5" x 2.25", which will keep you on the straight and narrow, and the entire package of bike and tyres weighs in at only 20kg – nearly 10% less than the Halfords bike.
One aspect that I particularly like about the Phantom (vs the Voodoo Bizango) is how integrated the electrical componentry is. The Bizango has a fairly in-your-face battery on the downtube and the hub motor is easily seen. Compare this with the Phantom and you'll see (or actually you won't!) that the battery is fully integrated into the frame. The cabling is also routed through the frame, so the only features that set this apart from a standard non-powered MTB are the slightly larger rear hub (which is pretty much hidden by the disc brakes anyway) and the LCD display on the handlebars (which you can pass off as a speedo).
The Westhill Phantom? It's like the Stealth Bomber of the mountain bike trails.
---
2. Halfords folding electric bikes

Carrera Crosscity Folding Electric Bike
Halfords look to be dipping a toe in the water with electric folding bikes at the moment. There are just a few bikes listed and all look fairly similar. They're getting good reviews though and one of the best-rated is the Carrera Crosscity. Let's dip our own toe in the water and take a closer look.
First impressions of the bike look really good. The paintwork looks sleek and you'll look good rolling into the office on it. The bike is low-step through, so you don't need to do the splits in your work three-piece suit to actually get onto it. There are also some useful 'additional extras' that are included as standard. There's a rear rack fitted that could take pannier bags, or even securely attach your laptop with bungee cords. Loading up your luggage is made particularly easy with the added kickstand.
There are five frame sizes to suit male and female riders of varying heights:
Men's bikes
| | | |
| --- | --- | --- |
| Height (Inch) | Height (cm) | Frame Size |
| 5′ 5″ – 5′ 10″ | 165 – 178 | 17″ – 18″ |
| 5′ 10″ – 6′ 1″ | 177 – 185 | 19″ – 20″ |
| 6′ 0″ – 6′ 6″ | 183 – 198 | 21″ – 22″ |
Women's bikes
| | | |
| --- | --- | --- |
| Height (Inch) | Height (cm) | Frame Size |
| 4′ 9″ – 5′ 7″ | 145 – 170 | 16″ |
| 5′ 0″ – 5′ 11″ | 152 – 178 | 18″ |
The frame itself is aluminium and weighs in at only 18kg. Halfords say that it is suitable for riders of up to 85Kg, with an additional 15Kg or luggage (which is incredibly heavy laptop!)
In terms of the mechanical components, the Crosscity has front and rear V-brakes, 8-speed Shimano Acera gears, and 20" wheels with Kenda double-walled tyres.
The bike folds up neatly to 93x40x74cm for easy storage.
Turning to the electronics, we see that the Crosscity has a Bafang rear hub motor, connected up to an LCD screen and 313W battery which is integrated into the bike frame. Halfords claim that the power is sufficient to take you and your laptop up to 30 miles, which should more than cover the average commute, especially if it's just for that last-mile from the station. If it's not enough for the full 'there and back' journey, then you can top up the battery at the office during the workday – a full charge takes only 6 hours to complete.
What I particularly like about commuting by ebike is that you can let the motor take the strain on the way in (so you arrive fresh and dry), then give your legs a blast on the way home to work on the fitness. The Crosscity is a great option for this.
---
Also consider:
FIIDO Foldable Electric Bike D2SB
Here's a secret – I'm a big fan of origami. You know, the whole turning-a-sheet-of-paper-into-a-scale-model-of-Buckingham Palace kind of thing. So, for that reason alone, I love folding bikes.
This folding bike, with added battery power, from FIIDO is a bit of a cracker. At first glance, it's a similar-looking bike to the Crosscity, but let's dig a little deeper.
One feature that I really like is the suspension that you can see tucked in between the seatpost and the back wheel. When I'm commuting to work by bike I'm more likely to be wearing my suit trousers than my padded bike shorts. So having rear suspension like this is a massive benefit when you're navigating those city-centre potholes.
The 16" wheels are fitted with front and rear disc brakes (very powerful) and front and rear mudguards, because spending the day at work with your back covered in mud is unlikely to get you much praise from the boss.
I would recommend going with the 6-speed option, but there's also a single-speed model which will shave some off the price and weight. But, speaking of the weight, the aluminium FIIDO weighs in at only 19.5Kg, and can take a maximum load of 120Kg of rider and luggage.
When you need to fold the bike up, it has an easy 3-step process to transform it from Urban Road Warrior to Folded Origami, at a folded size of only 75x35x65cm. Quite a bit smaller than the Crosscity.
---
3.

Halfords electric road bikes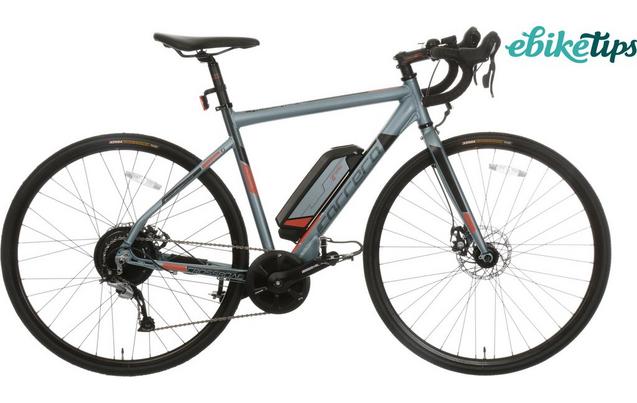 Carrera Crossroad Electric Road Bike
If you're looking for an electric road bike in Britain, then the Carrera Crossroad is a good option. 9-speed Shimano gears, Tektro mechanical disc brakes, and 700c wheels fitted with Kenda K-1053 tyres. Tyre width is 32mm.
There are a variety of frame sizes to suit riders of different heights:
Men's bikes
| | | |
| --- | --- | --- |
| Height (Inch) | Height (cm) | Frame Size |
| 5′ 5″ – 5′ 10″ | 165 – 178 | 17″ – 18″ |
| 5′ 10″ – 6′ 1″ | 177 – 185 | 19″ – 20″ |
| 6′ 0″ – 6′ 6″ | 183 – 198 | 21″ – 22″ |
Women's bikes
| | | |
| --- | --- | --- |
| Height (Inch) | Height (cm) | Frame Size |
| 4′ 9″ – 5′ 7″ | 145 – 170 | 16″ |
| 5′ 0″ – 5′ 11″ | 152 – 178 | 18″ |
In terms of the weight, the Crossroads comes in at 19Kg. This is about average for an electric bike, but much higher than you would generally find on a non-electric road bike (you'd be looking at more in the region of 9-10Kg). More on this in a moment.
It's a road bike that looks sleek, but….
---
Also consider:
SAVA T800 Carbon Fibre Brand Road Bike
…and I think it's a big but, to be honest.
Road bikes (in my humble opinion) are all about going as fast as possible. Tearing up those tarmac surfaces as you bomb along at unimaginable speeds.
Now, that 19Kg that the Carrera Crossroad weighs is a lot of beef to be carrying on a road bike. That's fine if the benefit is that you will get whisked along effortlessly by the motor. But, whilst the motor will certainly do that, by law it will only get you up to 15.5mph before it cuts out. After that, you're on your own with those 19 kilos.
I don't consider myself to be a fast road biker, but I can comfortably do 15-16mph average for an hour or so. So, where's the benefit?
Let's contrast the Crossroad with this non-electric road bike from SAVA:
Crossroad = 19Kg
SAVA = 9.6Kg
For me, that's really the only metric you need to look at here. With a weight saving like that you can easily get up to 15.5mph. I'm a big fan of electric bikes, but I think as far as road bikes go, the best option is to go with a non-electric bike. It's likely that future electric road bikes will be lighter as the battery and motor technology improves, but for the time being I'd stick with a straightforward leg-powered bike.
---
4. Halfords electric adventure bikes

Boardman ADV 8.9E Mens Adventure Electric Bike
Adventure bikes, or Cyclocross bikes, call them what you will, these bikes are essentially a beefed-up road bike. Same geometry and ride position but with a stronger frame, wheels, and chunkier tyres.
The Boardman has SRAM Aprex Hydraulic disc brakes, 11 mechanical gears (also SRAM), and 700×38 Schwalbe G-One Speed Folding tyres. In terms of the electrical set-up, the motor and battery are both supplied by Fazua. In total the bike weighs in at 16Kg. Interestingly, the entire Fazua system can be taken off the bike, so that it can be ridden as a normal push bike. You'll need a cover to go over the gap in the frame that's left (sold separately by Halfords), but this cuts 4.6Kg off the total weight, bringing it down close to a road bike.
---
Also consider:
Here's the issue though. I've just never really understood adventure bikes like the Boardman.
They seem to offer the best of all worlds, but in practice I think they're a poor compromise between road bikes and mountain bikes.
So, my suggestion is that you buy a good quality eMountain bike rather than an electric adventure bike.
To explain my thinking let's take a look at the Haibike Sduro Allmtn 5.0. This is an electric MTB from German manufacturer, Haibike. It's in a similar price bracket to the Boardman but (for me) is just so much more suited to those wild places.
First up, the frame geometry and riding position mean that you can ride down hills more safely – just drop the saddle, hang your backside off the back end, and you can keep your centre of balance low to handle the slope better.
Next up, the tyres are much knobblier and chunkier, with the fantastic Schwalbe Hans Dampfe tyres. Compare these 2.35 inch tyres to the 38mm of the Boardman.
But what really sets these bikes apart is that the Sduro has full suspension on the front and rear. The Boardman? That will literally bounce over bumpy terrain. The Sduro? Well that suspension will just soak up the bumps and give you a smooth ride over the roughest of trails.
For me, it's really no contest at all. It's the Haibike Sduro all the way.
---
5. Halfords electric hybrid bikes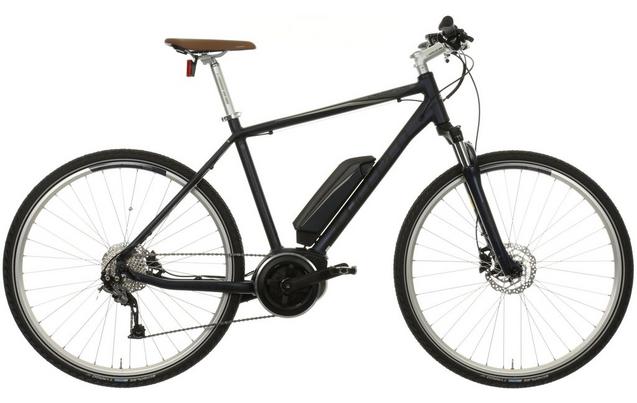 Carrera Crossfuse Men's Electric Hybrid Bike
Halfords have a broad range of bikes to choose from in the Electric Hybrid category and the Crossfuse is one of the stars of the show.
This is a nippy bike in terms of the mechanical components alone. It has a lightweight aluminium frame, 9-speed Shimano Alivio gears, and 700c wheels with Schwalbe Tyrago KG tyres (at 700×40 these are grippy, but fast). There are Shimano hydraulic disc brakes front and rear to keep you safe, and Suntour front suspension forks to smooth out any lumps and bumps in the trail as you're whizzing along (with a big cheesy grin on your face, obviously).
The bike is good for riders of up to 120Kg and it comes in three frame sizes to suit a wide range of heights:
| | | |
| --- | --- | --- |
| Height (Inch) | Height (cm) | Frame Size |
| 5′ 5″ – 5′ 10″ | 165 – 178 | 17″ – 18″ |
| 5′ 10″ – 6′ 1″ | 177 – 185 | 19″ – 20″ |
| 6′ 0″ – 6′ 6″ | 183 – 198 | 21″ – 22″ |
Turning to the electrics now. There's a good quality 400W Bosch battery and motor, which Halfords claim will get you up to 80 miles (although, bear in mind, that this distance is always dependent on rider weight, the surface you're travelling on, and the style of riding, amongst other factors).
The power is driven through the mid-point of the bike at the crank (by the pedals), which keeps the weight nice and central – so there's no danger of pulling a wheelie like there is with some rear-drive ebikes. The Bosch battery is removable from the frame. This is a useful feature for situations when you're looking to charge it away from the bike – say if your bike is in the garage and you want to charge your battery in the kitchen.
All in all this is a great hybrid e bike – stylish and practical, and at a great price.
---
Also consider:
e-Ranger Cruiser Electric Bike
Having seen how good Halfords' Carrera Crossfuse bike was, I didn't think I'd find as good an alternative elsewhere. I was wrong! Let's take a look at the Cruiser Electric bike from e-Ranger.
Okay, mechanicals first. Sometimes described as a 'Sit up and beg' style of bike, the Cruiser has a very relaxed riding position which makes it really comfortable to use particularly if you suffer from wrist or hand pain (I know someone with arthritis who finds this style of bike a real benefit). The riding position combines well with the low-step through frame, a bonus for anyone (me!) who isn't as flexible in the leg and hip area as they used to be. For reference, the ground to step-through height is 44cm.
There are 7 mechanical gears, provided by Shimano, with disc brake on the front and Tektro V-brake on the rear. e-Ranger says that the bikes are suitable for riders of between 5'-6' and up to 125Kg or 19st 9lbs. The Cruiser has a whole stack of useful extra features like mud guards front and rear, pannier rack, front suspension, comfort saddle, and adjustable handlebars. The wheels are 26" which combine well with the front suspension for a smooth ride.
The 250W Bafang motor can take you up to 30-50 miles, depending on the rider weight, the terrain, and riding style. The battery is stored underneath the pannier rack and can be removed for off-the-bike charging between rides. All told, the package of bike and electricals weighs in at 24Kg.
All of this is great to hear, but I haven't told you about the most impressive bit yet. That's the customer service. Have a read through the reviews on Amazon and there are two points that jump out at you: (1) it's a great bike, and (2) the customer service provided before and after purchase by the team at e-Ranger is first-rate.
---
What to look for in an electric bike?
When you're asking, "What type of electric bicycle do I need?" then it's important to consider the type of riding that you're planning on doing. We've looked through bikes in the various categories of ebikes that Halfords offers, and saw how the competition measures up here in the UK. Now let's look at some of the important factors to consider in choosing an ebike.
Just click on the '+' to open up each section.
---
Best electric bike UK
Halfords have a wide range of electric bikes covering all the main categories of ebike. They've got some great bikes on sale that get excellent reviews from UK shoppers. But they're not the only ebike retailer in Britain and there are other fantastic bikes for sale here that aren't stocked by Halfords.
I hope that this article has been of use to you in picking the right ebike and answering your questions about choosing the right style of bike for you and your riding.
Happy shopping!
**Please note that our reviews are based on customer reviews, star ratings, and online complaints. Therefore, Bicycle Volt are in no way liable**