Disclosure: I may receive referral fees from purchases made through links on BicycleVolt. As an Amazon Associate, I earn from qualifying purchases. But I always stand by my opinions and recommendations.
The best wireless headphones for mountain biking are those that deliver great sound quality, don't have a wire (natch!), don't get in the way of your bike helmet and, for when you're taking your bike on the road (or you're around other trail users), don't stop you from hearing the surrounding noise. They need to be robust to take the knocks and abuse that come with MTB trail riding, and waterproof to cope with the rain, sleet, and mud. Oh, and they need to look damn cool. So all our friends are green with envy.
That's a tough ask to get all of those, so I've been doing some extensive research to see what the best options available are. I've got a shortlist below of the ones to check out.
There's some interesting new tech in this field including wireless bone conduction (which blows my mind!), wireless earbuds, and even a Bluetooth speaker. However, what you won't find is a set of headphones for cycling like these. There's plenty of reasons why I don't recommend these for mountain biking, despite the fact that they're an awesome pair of headphones, and I'll run through these reasons at the foot of the page. (Spoiler alert! A big benefit of the Crusher ANC is that they're "noise canceling". Awesome when you're on the train surrounded by screaming babies and abusive drunks, less awesome when you've got to listen out for cars and trucks on the roads.)
For now, let's look at my recommendations.
Headphones for bike helmet:
---
Best way to listen to music while cycling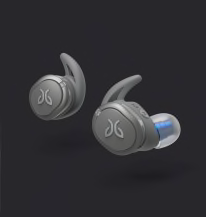 Jaybird RUN XT Low Profile Earbuds For Helmets
MY TOP RECOMMENDATION
When you're looking for the ultimate in sound quality, and you don't need to worry about incoming traffic, then the RUN XT wireless earphones are the best.
These are the 2nd Gen. edition of Jaybird's all-terrain true wireless earbuds. What makes them so good? Well, they're now fully waterproof (and sweatproof) to IPX7 rating. They have an incredibly snug and comfy active fit, delivering premium sound for both music and calls ("Hi, I'm out on the trails today, please leave a message after the beep…")
With a charging time of only 2hrs these little beauties will deliver 4hrs of your fave tunes. If you're in a rush to get out on the bike then there's also a Quick Charge function. 5mins of charging giving 1hr of playback.
The wireless earbuds come with a charging case and USB cable to connect up to the power supply.
One of the benefits of earbuds is that they won't interfere with your bike helmet like standard oversized cans would.

---
Sometimes, when you're out in the wilderness by yourself, or you want the whole world to listen in to your playlist, then earbuds or headphones just aren't the best solution. In that case, you need to strap a speaker onto your handlebars and let rip.
If you're going to do that remember two things: (1) pick some good tunes, because even in the Great Outdoors the local wildlife will be silently judging your music selection. And (2) you need to pick up a Bluetooth speaker that is robust enough to cope with the terrain. For that reason, the Tough XL from FUGOO is just the right tool for this job.
It gives 360deg sound for a totally immersive experience and can deliver an incredible 105db of sound via its pair of 40mm front speakers, pair of 32mm tweeters on the sides, and passive radiator on the back. Even with all of that it can deliver a long-lasting 12 hours of playback at 50% volume levels.
It's waterproof, dustproof, snowproof, mudproof, and sandproof. Manufacturer, FUGOO, have tested the speaker at 3 feet depth for 30 minutes and it still came up smiling and singing. So it should survive the odd muddy puddle on the trails.
Team this with some handy zip ties to lash the Tough XL to your bike and you're good to go shred the gnarliest of MTB trails.
---
AfterShokz Aeropex Open-Ear Wireless Bone Conduction Headphones Cycling
One of the most exciting developments in the world of music playback tech are bone conduction headphones. These work by transmitting sound through vibrations in the cheekbones, rather than through the eardrums like a standard pair of headphones. Sounds weird but it's actually pretty amazing.
Aftershokz are one of the main companies pioneering these new sports headphones and their Aeropex are the latest model to roll off their production line.
With a waterproofing rating of IP67 and a battery life of up to 8hrs, these are practical and great for mountain biking. Hooking over the back of your ears these are comfortable and lightweight to use.
From our perspective the best aspect of these is that they don't obstruct ambient noise from getting to your ears. That's great because it means, as well as your music, you also hear other people and traffic. As Aeropex owner and full-face helmet wearer Will K says, "I could hear other trail users, sounds from my bike, and music all at the same time".

---
LIVALL MT1 Mountain Bike Helmet Speakers, Wireless Turn Signals And Tail Lights
This is a cracking product from LIVALL Riding. A CPSC/EN1078 bike helmet, rear signal and tail lights system, Bluetooth speakers, and a whole bunch more all rolled into one great looking helmet that's available in solid black or black with red highlights.
This is an appealing product for me because, firstly, my own helmet has seen better days and needs to be replaced. Secondly, I like the idea of creating a little extra ambient noise with my music but without obscuring all the important background noise from other riders or road users.
Take a look at the Amazon listing and you'll see that the MT1 gets rave reviews, including buyer David who loves the fact that this gives him one less thing to remember (or forget!) – instead of helmet AND headphones, it's now just helmet. Or there's Angie who's "in love" with the MT1.

---
Cycling With Headphones
Before you head out cycling with any music being pumped into your brain, it's important to check what the local rules and regulations are where you intend to bike. Even if it's legal where you are, and even if you're heading off the roads to cycle, then it's important to be aware of your surroundings. For that reason, noise-canceling headphones like the ones I mentioned at the top of the page aren't recommended. Whilst they might be fantastic to block out unwanted sounds if you're traveling on public transport they're not great for the bike trails. And, in case, big old headphones are never going to fit well over a big old MTB helmet are they?
There are a load of things that you can do to make listening to music whilst you pedal much safer. Let's take a look.
1. Don't set the volume too high
I know, I know, we all like to play tunes a little loud now and again but that's not great for our eardrums and it's certainly not great for being able to hear ambient noise. Keep the volume down to safe levels
2. Try new bone conduction headphones
I've mentioned these above. They're a clever piece of kit because they direct the sound vibration through your jaw and skull, and not through your eardrums. That leaves your eardrum free for hearing all the background noise round about. Whether that be tweeting birds or an injured rider's cry for help
3. Wear one earbud from a pair
Simple enough. This keeps the music flowing whilst one ear is fully directed to the surrounding sounds
4. Grab an external Bluetooth speaker
Dollar for dollar you're likely to get better sound from a dedicated external speaker anyway. This approach allows you to either tape the speaker to your bike for mobile tunes. Or, if you're located in one spot (jump track or skills park), you can keep the speaker at one central point, possibly in the hands of your admiring fans 😉
5. Invest in a Bluetooth helmet
Helmet and speakers all rolled into one. What's not to like?
**Please note that our reviews are based on customer reviews, star ratings, and online complaints. Therefore, Bicycle Volt are in no way liable**