Disclosure: I may receive referral fees from purchases made through links on BicycleVolt. As an Amazon Associate, I earn from qualifying purchases. But I always stand by my opinions and recommendations.
If you're in your sixties and looking to choose a new bike, then you've come to the right place. Whether you're a regular cyclist, a beginner, or you haven't been on a bike since you were a kid in shorts with scuffed knees and a pocket full of baseball cards, there are some great bikes that are perfect for you. I've got some fantastic bikes to show you that I recommend and I'll also give you some tips about getting into cycling if you're past 60 and feeling a little nervous about getting on two wheels.
Back in the day, being a guy in your 60s meant struggling through the last few years of a career (whilst being sneered at by the 'Young Turks'). Before, hopefully, getting a couple of years of retirement (daytime TV, woohoo!). And, possibly, if you were really lucky, reaching the heady heights of the BIG 70, before it was Game Over.
Of course, all of this would be accompanied by a rapidly deteriorating body and mind. What fun…
These days, hitting sixty is just the start of the good times. And, cycling past 60? Yeah, that's definitely on. You might already be retired or possibly coasting along (maybe with part-time hours) towards retirement. And, you've generally got more disposable cash, more leisure time and a bigger smile on your face than the Young Turks. No smiles for them with their 100hr-a-week high-powered careers, crippling mortgages, and sapping SUV car payments. (You can chuckle, but not too loudly, they might hear you in their cubicles)
Health is also much different now in your 60s and beyond. A few decades ago you'd have been surfing the mail-order catalogs for the "Top Manual Wheelchairs for Seniors in 1989". But, now? Now, you're looking for the best bicycle for seniors. That, my friend, is progress.
A few decades ago you'd have been surfing the mail-order catalogs for the "Top Manual Wheelchairs for Seniors in 1989". But, now? Now, you're looking for the best bicycle for seniors
So, where do we begin? Well, firstly, there are some aspects of cycling for senior citizens that are different to when you were younger. We'll take a look at those in a moment. We'll also look at the types of bikes that are most suitable for you and I'll give you a recommendation for each.
Ok? Then, let's get started.
---
Relaxed & upright ride position

Let the electric motor take the strain

Front suspension smooths the road

Suitable for pavement and light-duty trails only

Stay in front with this e-road bike

Premium components throughout

Step-thru frame for easy boarding

No electric pedal-assistance
---
Why cycling in your 60s is different
Cycling is a fantastic sport to take up in your sixties for many reasons. It's a great way of getting out into the fresh air and getting some exercise in nature – and that might be a BIG breath of fresh air if you've spent your working life cooped up in an office. It's also an excellent way to socialize and meet new people from different backgrounds. Many areas have cycling clubs for over 60s and some cycling clubs have their own separate group for seniors. If there isn't one in your local area, then why not consider starting a cycling club? It doesn't have to be anything formal, with a committee and rules, just pick a date, meeting time, and a route and let folks know (Facebook is great for this).
If you're starting cycling at 60 then some things will be new or different. Let's take a look.
Riding Position
If you're new to cycling, then you may not be aware that there are a multitude of different options for the shape of the bike frame and therefore the position that you ride the bike in.
This is important for you because there are bikes, like Tour de France road bikes that you ride in a hunched over and uncomfy position with your knees practically bashing your nose. If you're not planning on sprinting around France in the fastest time possible, then this may not be the best style for you.
Thankfully, there are lots of other styles of bike that give you a more upright or even reclined riding position. These can be great if you suffer from wrist pain or have arthritis in your hands as an upright position puts less weight on your hands. They're also much more comfortable to ride (at any age!) and let you take in the world around you.
Some of the most comfortable, relaxed riding position, bikes to look out for include hybrid bikes, mountain bikes, step-through (or low-step or easy-boarding) bikes, and city or commuter bikes.
Comfort is Key
I think it's fair to say that when you're younger you're more willing to forgo comfort in the pursuit of style. Whilst it's still important to look good in your sixties, the days of eight-inch platform heels are probably behind you. The good news is that there are great options these days for bikes that combine comfort and style.
We've talked already about the riding position of the bike and how a relaxed and upright position (known as the bike's 'geometry') makes a good choice bike for older adults. Apart from the shape of the frame, there are plenty more features that can make a bike even more comfortable.
The bike seat (or saddle) is one of the items that can make the biggest impact (literally!) on your comfort. Sure, you can get saddles that are thin and hard as a rock. When you're looking for a 'Personal Best' time, they have their advantages. But, when you're looking to enjoy the journey, there are potentially better options for you.
You can now get saddles in extra-wide, extra padded and sprung to prevent you getting a numb butt. The bike frames themselves can have suspension (like your car) on either the front wheel or both front and back wheels. Even the seatposts (the tube that your saddle is attached to) can now come with suspension – and that's something that I'd recommend whatever age you are for preventing "micro-winces".
It's not just the bike itself that can be adjusted to make it more comfortable. Padded cycling shorts are incredible. These can be form-fitting shorts like you see pro riders wearing. If you're looking for apparel that isn't quite so tight, then you can wear padded bike underwear with your standard shorts over the top, or a pair of loose cycling shorts with a padded liner fitted inside. These are worth their weight in gold and I wouldn't go cycling without a pair on. Your derriere will thank you.
Easy on the Knees
Unlike running, squash, etc, cycling is a very joint-friendly sport and in my view is one of the best leg exercises for seniors with bad knees. With smooth, regular movements for your legs, riding a bike has minimal impact on your joints and in particular your knees.
It's probably not something you considered in your 20s. But this is a great benefit when you're in your 60s and means that you should be able to continue enjoying your bike for many years to come.
Remember that form is important when you're pedaling along. If you keep your knees stable it can help give you more power and stop them from aching when you've finished your cycle.
If you imagine looking at yourself head-on as you ride, you should ideally have a straight line going from your shin to your thigh. When your knees roll in or push out as you pedal, the kneecap doesn't glide smoothly. This could cause problems with your knee cartilage, particularly if you're already dealing with inflammation. Check up with your doctor first if you have any concerns in this area.
Relax and enjoy the ride
Remember to give yourself a break and don't push yourself too hard. Especially if you're new to cycling. Riding all day, hard and aggressively, is probably fine in your 20s, but in your 60s you're probably riding more for fun and overall fitness.
Make sure to get plenty of rest between bike rides. If you're new to the sport, then ease yourself in gently. Try a couple of cycles a week of 5-10 miles with 2 or 3 days rest in between. Listen to your body – if the cycling feels too tough, ease back and reduce the mileage or the frequency. Feels too easy? Great! Increase the distance you cycle and the number of times you go out riding. Just remember to take things at a pace which feels right for you and, if you have any doubts, speak to your doctor.
When you go cycling you'll likely lose more bodily fluid (through sweating and breathing) than you would normally. So, make sure you hydrate sufficiently before and after your ride – and take a bottle with you when you go out on your bike.
Look out!
As a cyclist you need to follow all the normal rules of the road and make sure you keep a look out for drivers and obstacles. Also, if your eyesight has deteriorated, you might want to take some extra precautions. Have a check-up with your optician regularly, and wear glasses or contacts if you need them to enhance your vision.
Cycling in the day is generally safer than at night – you can see obstructions and other road or trail users can see you. There are a number of things that you can do to make yourself more visible. Make sure you have a good set of front and rear lights attached to your bike. These are essential at night and I'd also suggest that having the rear light on can also be useful during the daytime as well. Wear bright clothing (a waterproof jacket in a bright color and with reflective detailing can be very effective). Also, always use a bike helmet and I'd suggest choosing one that has MIPS protection.
Finally, remember that accidents and punctures will inevitably happen when you're cycling. So, always be prepared. For minor accidents, I'd recommend carrying a small bike first aid kit with you whenever you go out. These are great value for money. For punctures, pack a spare inner tube (here's an easy way to get the correct size tube for your bike), a small bike pump or CO2 tire inflator, and a pair of tire levers.
No need to do the splits
Bikes with high crossbars (the metal post that connects the seat and the handlebars) can look quite daunting if you're not the supple dancer that you once used to be.
However, there are plenty of other bike styles available that are easier to get onto. These have a crossbar or top tube that slopes downwards towards the saddle (many ladies bikes have this style of bike frame). There are also bikes that don't have a crossbar at all. These go by various names, including low-step bikes, step-through bikes, and easy-boarding bikes for seniors. You can also get adult three-wheeled bikes that are easy to get on and off, and also more stable than a two-wheeler if your balance isn't what it used to be.
Electric bikes for seniors
I'll let you into a secret. I've always wanted to be Superman. It's not about wearing my underwear over my pants (although I sometimes make that mistake as well). It's mainly about wanting a superpower that other people don't have. So, when I found out about electric bikes (ebikes), my mind was blown.
Also known as pedal-assist bikes, these have an electric motor that gives you a boost as you pedal and help you cycle further, faster and for longer. The best bit? Now that the batteries have got smaller, it's almost impossible to tell that you're getting some assistance. From now on, please call me Clark.
These can be your superpower too. Electric bikes for senior citizens are a match made in bike heaven. The bikes themselves come in all the regular sizes and shapes that we've looked at so far – you can get electric road bikes, e mountain bikes, pedal-assist hybrids and electric step-through bikes. With the motor assistance, you can now go further than you previously were able (or thought was possible!). You can climb hills that you didn't feel you'd be able to. And, the best bit? You can now cruise past all those youngsters as they huff and puff away on their non-electric bikes.
---
Top Recommended Bikes for Over 60-Year-Old Men
We've seen how cycling in your 60s is different and, in fact, with the right kit, a little knowhow, and the best bike, it can actually be way better than cycling when you're younger. So, which is the best bike for you to take you cycling into your 60s and beyond? Well, there's lots of different options. Some are built for speed. Some are built for laidback-cycling-whilst-enjoying-the-views. Some are rugged enough to take on mountain bike trails with ease. Some love riding city streets and some love long-distance bike tours. Quite a few of them have a dose of ebike electric power hidden under the hood.
Let's get into each of my bike recommendations in detail, shall we?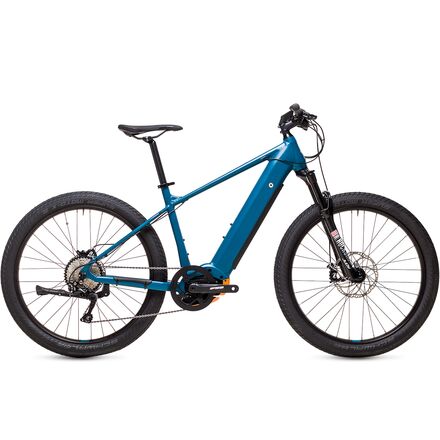 Diamondback Response e-Bike
The Response from Diamondback is a highly versatile machine. At its heart it's a light-to-medium duty mountain bike, at home on backcountry trails and fully capable of cruising effortlessly along pavement and gravel.
Riding position is comfortable and upright. The front suspension and high volume tires on wide wheel rims add to the comfort factor. The Response is also an ebike, and with its high quality 350W Bosch motor it can take you up to speeds of 28mph. It can do it smoothly and it can also do it safely, with the aid of the powerful disc brakes.
Electric bikes are easy to charge and the Response comes with a battery charger that you can use to top up your battery at a standard wall socket. Read more+
---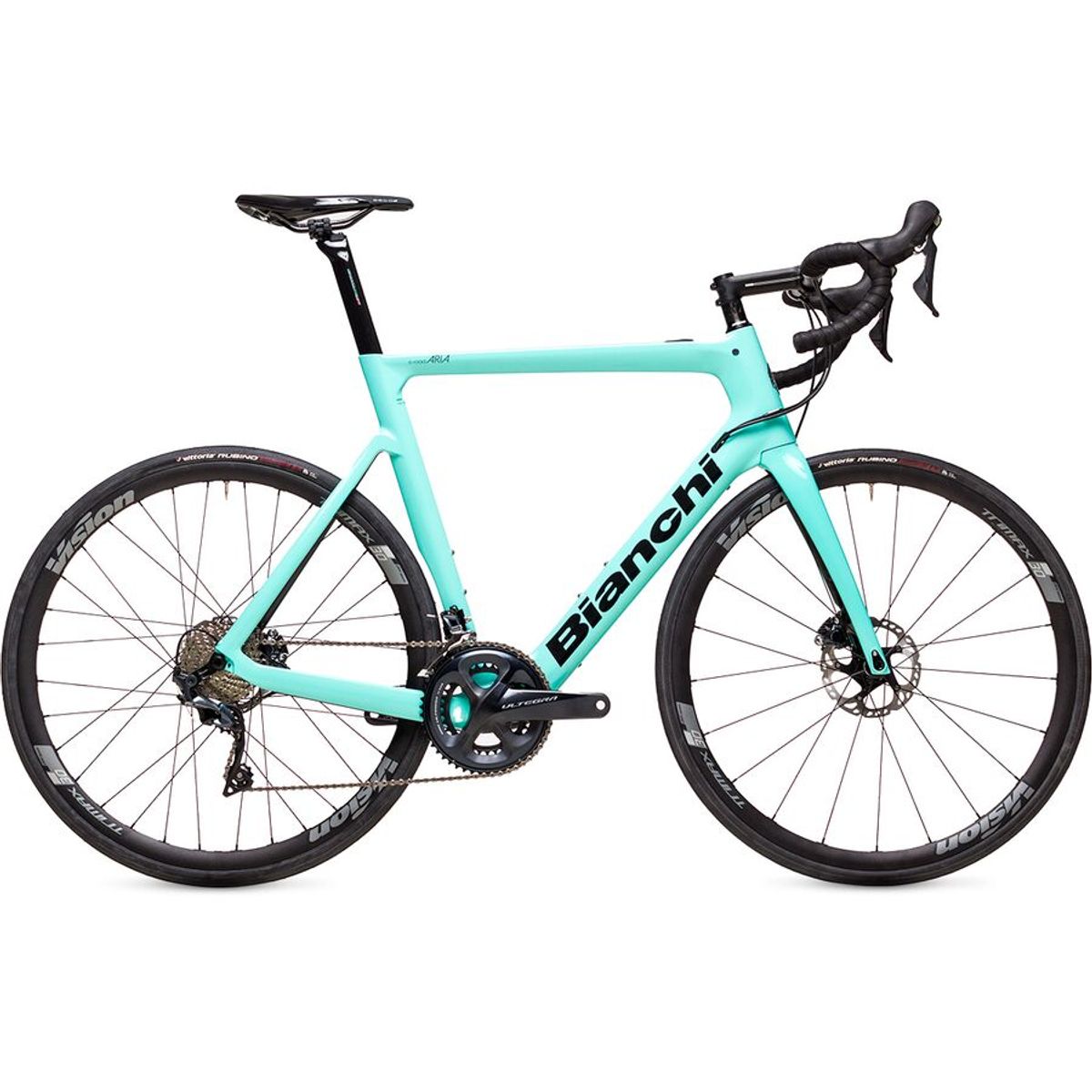 Bianchi Aria Ultegra e-bike
For many road cyclists, increasing age can become an increasing barrier in keeping up with the pack. The mind is still willing, but the legs might not have the same strength or stamina as they once did. It used to be the case that, when that happened, a roadie would have to hang up their cleats and go get a sensible bike instead. But cycle manufacturers, like top-flight road bike producer Bianchi, have now started to integrate electric motors and batteries into their models. These are virtually impossible to detect – so none of your clubmates will know – but the effect is like giving Superman an extra boost of speed and power.
By itself, the Aria Ultegra is a highly capable road machine. The list of components is drool-worthy and the carbon fiber frame is light and responsive. With the motor discreetly added, this bike is King Of The Mountain, The Road, and every other paved surface. Read more+
---
Co-op Cycles CTY 1.1 Step-Through Bike
If you're looking for a budget-priced bike that is fun to ride and great for seniors, then the CTY 1.1 from REI is definitely worth a close look. This bike is perfect for city commuting, park rides, and trips to the ocean. The riding position is comfortable and relaxed, and the step-through frame style means that you won't need to do the splits to board it. The aluminum frame and forks are light and flexible (to soak up lumps and bumps in the road surface) and there are 24 gears to help you get up any hill in your path. All told, the frame and components weigh in at under 27 lbs, which is very light and therefore super easy to pedal along and carry when you need to. Read more+
---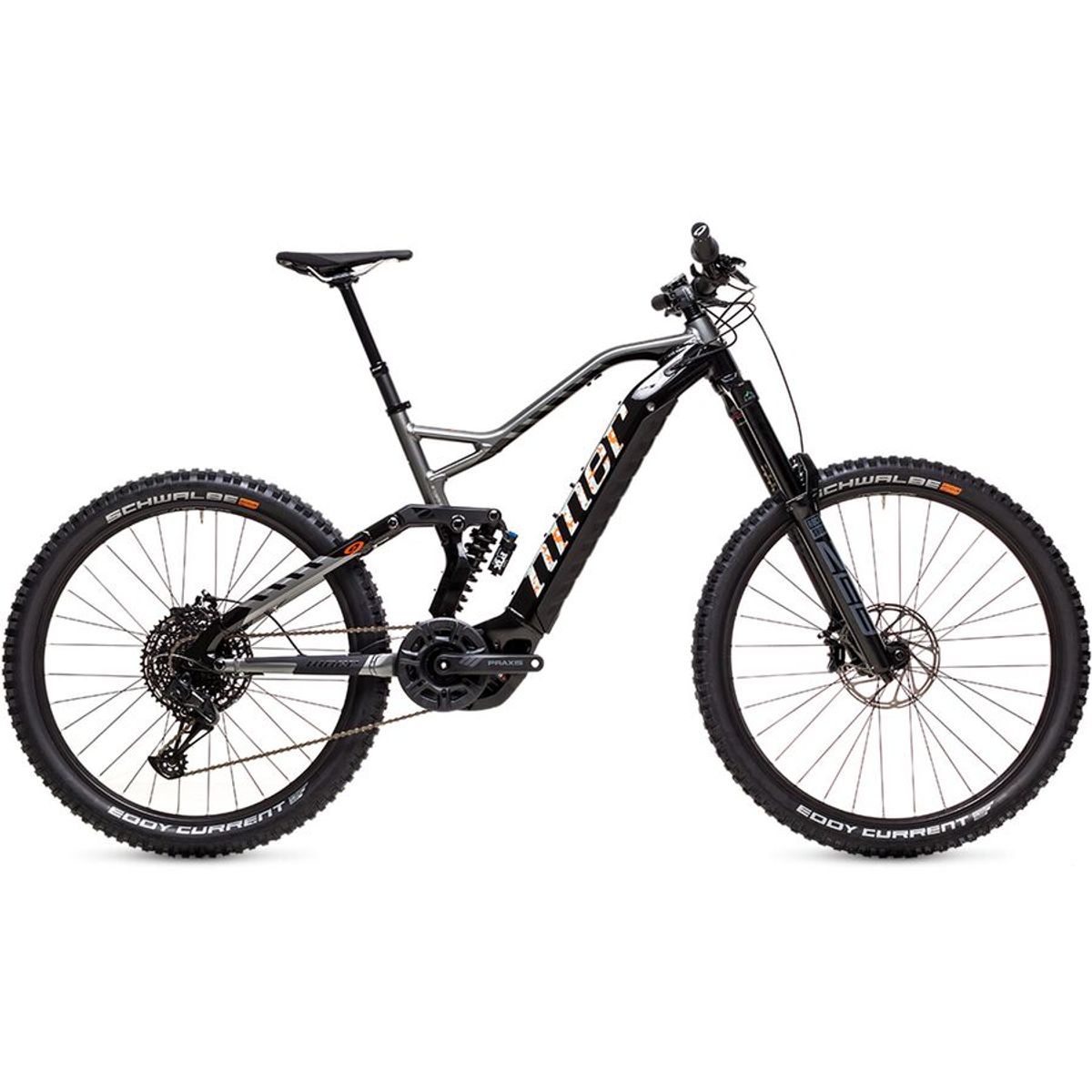 Niner WFO E9 3-Star e-Bike
Whatever age you are, downhill mountain biking can be exhilarating and great fun. But, getting UP the hills in the first place can become tougher the older we get. That's where eMTBs come in to their own and it's not surprising that you see more and more of them on the trails these days.
The WFO E9 eMTB is a great example. It's got all the best mountain bike credentials – tough aluminum frame, first class front and rear suspension, and SRAM drivetrain. What it's also got is the Bosch Performance Line motor and Power Tube battery combo that delivers a whopping 85Nm of torque (Powerful!) 50 miles claimed range and 20mph maximum speed. If you find that the uphills are getting harder and harder the older you get, but you still love the adrenalin rush of the downhills, then the WFO E9 could well be the bike for you. Read more+
---
RadCity Step-Thru Electric Commuter Bike
A bike from a company that TIME named recently as one of the world's most influential companies is worth taking a closer look at. Rad Power Bikes make a great range of ebikes that are all surprisingly affordable and feature-packed. The RadCity Step-Thru is one of my favorites in their range for senior cyclists and it's not hard to see why. For anyone with a touch of arthritis, or weakness in their wrists, the high position of the handlebars and upright ride style are a real bonus. The ride is super-comfortable with the deep padded saddle, big tires and front suspension taking the strain. The rear cargo rack fitted as standard is handy and there are a suite of optional extras that you can add. The 750W hub-drive motor delivers 40Nm of torque (more than enough for most city streets) and, handily, the 48V Samsung battery powers, not only, the motor but also the integrated front and rear lights. I like it. A lot. Read more+
---
Cannondale Adventure Neo 3 EQ Electric Bike
Go big and go bold with the Adventure Neo ebike from highly-regarded bike manufacturer, Cannondale. The bike is very versatile – categorized by REI as a bike for urban cycling (which it excels at), the bike also has a spec that makes it an awesome choice for light-duty trail work. The step-through frame is very handy for the less flexible amongst us and this is great when teamed up with the rear rack, because tilting a bike over to one side in order to swing your leg ever is difficult when you rack is laden with cargo. Much easier to just step your foot through like you can with the Neo 3.
The front suspension is excellent for smoothing out the road and reducing forearm and wrist vibration as you travel along. As are the big Kenda tires. The front and rear fenders, fitted as standard, are something that you'll be grateful for when you're splashing through puddles on a soggy day. Read more+
---
Tern Vektron S10 Folding Electric Bike
Tern make some quality bikes, many of which are ideal for senior cyclists. It's hard to single out one from the pack, but the Vektron S10 has a feature that I really like and I think you'll appreciate too. Look closely at the middle of the main horizontal tube and you'll see a lever. This lever is part of the system that's used to fold the bike up. It's a quick process: drop the saddle, fold down the handlebars, open the frame lever and fold the bike frame in half. What's the benefit? Well, what it means is that you can then take this ebike with you on day trips in the car, vacations in the RV, or even stash it in the closet when you're not needing it. A comfortable riding bike, with ebike power, and super-folding powers…what more could you want? Read more+
---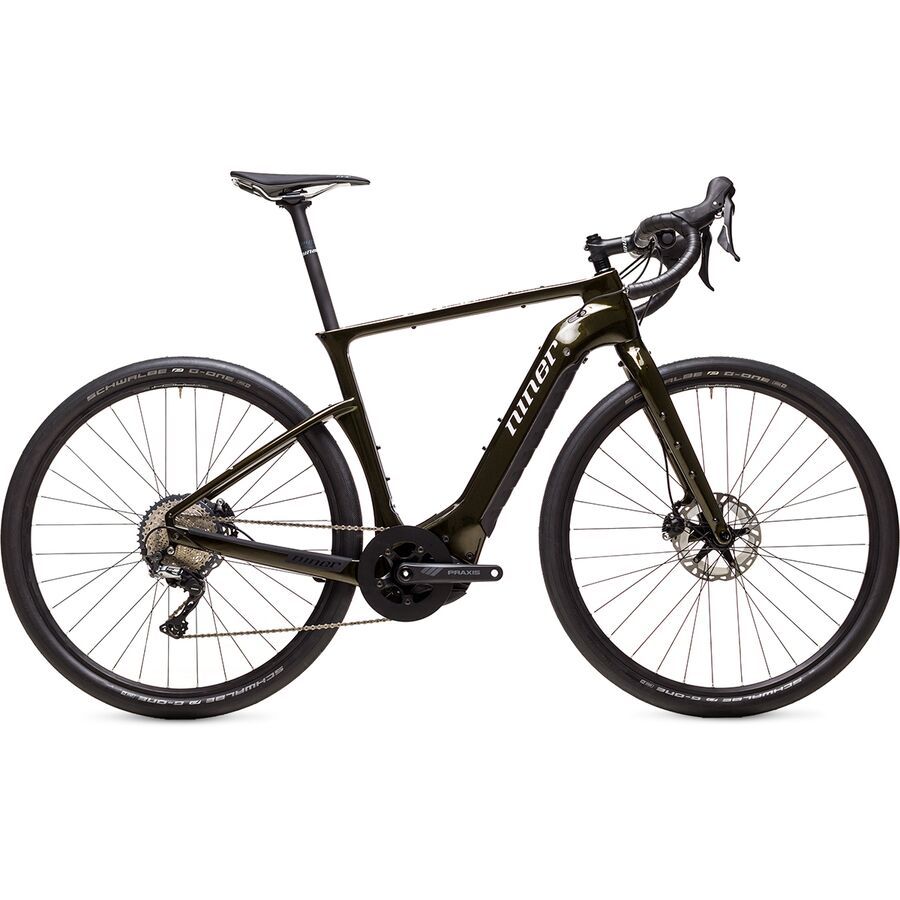 Niner RLT e9 RDO 4-Star GRX e-Bike
At first glance you might think that this is a road bike, but look a little closer and you'll see that it's something quite different indeed. The love child of fast, but just-for-smooth-pavement road bikes and rugged-and-go-anyplace mountain bikes, gravel bikes are the latest thing in the bike world. The Niner RLT is an awesome example and a great choice for seniors, particularly those of us who love speed but want a bike that's a little more forgiving and a little more practical than a pure bred road bike.
Compare the RLT to a road bike and you'll see that the riding position is much more upright. You'll also notice that the tires are wider, and the bike generally has a much more rugged feel. That's because it's designed for gravel paths and fire tracks. The kinds of routes where you couldn't take a road bike, but a full-suspension MTB would be overkill. These features make gravel bikes like the RLT excellent for rough tracks and great fun for roads too. With the addition of the Bosch electronics, taking you up to speeds of 28mph, this is an ebike that is virtually guaranteed to put a big smile on your face as you ride it. Read more+
---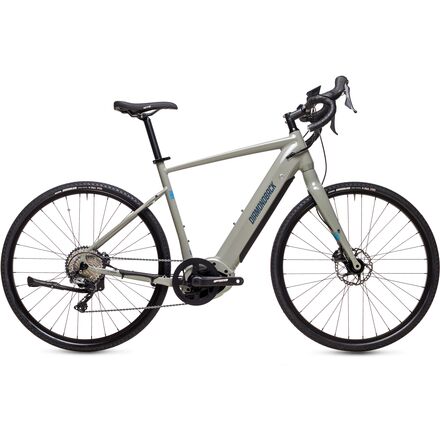 Diamondback Current e-Bike
My main gripes about road bikes are (1) that the ride position is getting more uncomfortable the older I get and (2) that pedalling them along at the speeds I like to go at is getting tougher and tougher. Thankfully, the team at Diamondback were apparently listening and have created the Current ebike. But, it's not just for me, this bike might be perfect for you too.
The Current is a bike that is at home on the roads as it is on gravel tracks. The aluminum frame is light and nippy. The 350W Bosch Performance Line motor will propel you at speeds of up to 28mph and, with a maximum torque of 85Nm, will take you smoothly up the steepest of inclines. The ride position is upright and comfortable, assisted by the confidently upturned handlebars and brake hoods.
The Current is a bike that knows it's good. Read more+
---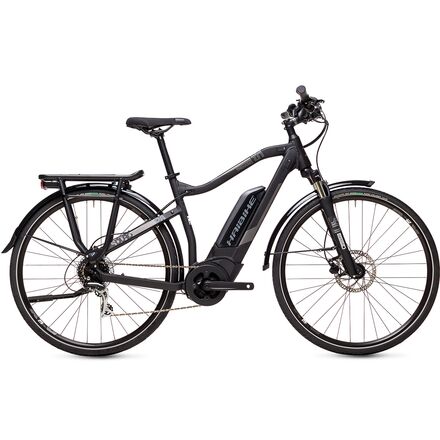 Haibike Trekking 1 e-Bike
Haibike, are a German manufacturer who have been turning out great quality bikes for over a quarter of a century. Safe to say that they know a thing or two about making a good bike. And the Trekking 1 certainly is a good bike.
The bike is designed for touring duties, with the frame style that you can pedal away on for long hours, integrated rear rack for cargo, fenders for keeping the crud off your shorts, and front suspension for dampening vibration.
The crossbar has a rather fetching downwards tilt to it that looks great and makes boarding less of a struggle. Add in the great set of electronics and it's hard to comprehend how the price can be so low. And yet, it is, and so I'd recommend getting yourself one before they all get snapped up. Read more+
---
Conclusion
Cycling in your Sixties is all about fun and keeping yourself fit and healthy. With any of these bike recommendations, I'm certain that you'll have a smile on your face as you cruise along. Hey, you might even decide you like it so much that you decide to give long-distance bike touring a try.
Now, what are you waiting for? Go buy that bike and show those kids how much fun it is to be in your 60s!
Relaxed & upright ride position

Let the electric motor take the strain

Front suspension smooths the road

Suitable for pavement and light-duty trails only

Stay in front with this e-road bike

Premium components throughout

Step-thru frame for easy boarding

No electric pedal-assistance